10 Dec

Weekly Stock Trading Advisory Report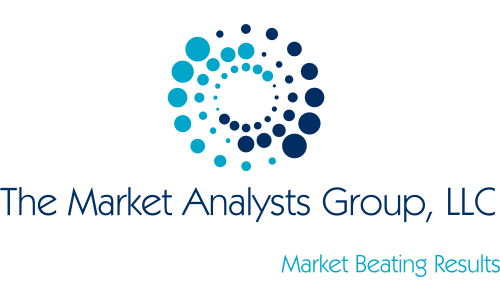 StockReversals.com Members get an exclusive 30% coupon offer to join our SRP Swing Trade subscription service. 
---
Stockreversalspremium.com – Swing Trade service with SMS E-Mail and Post Alerts for entry and exit plus morning pre market updates every day!
Tippingpointstocks.com– Growth Stocks with 50-200% upside
E-Mini Future Trading Service – Hosted on Stocktwits.com and launched in October 2018.  This service focuses on the SP 500 using our market map models and then translates that to Futures Trading advice and alerts. Short term and long term views…morning updates, trades and more.  Join for $50 a month!  Up 50% on our most recent trade put out on Friday, gains taken on Sunday night.
Recent Trade closed out for 50% gains
Results: 50% gain taken on Sunday night 12/2/18 at 2793. A $2,500 gain on a $5,000 contract.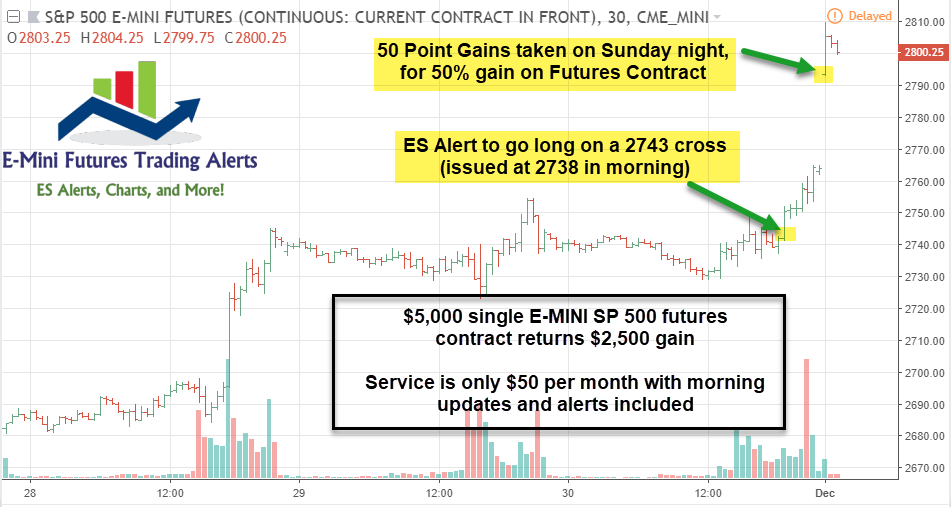 ---
FREE STOCK TRADING IDEAS AND MARKET TREND FORECASTS WEEKLY REPORT
Weekly Forecasts and Swing Trading Ideas Report: December 9th
For the week ending Dec 9th, indices closed heavily down, with the SP 500 finishing the week down -4.6%, the Russell 2000 down -5.6%, Nasdaq 100 down -4.8%, and the Dow down -4.5%.  Last week's rally was not enough to prove a lasting bottom is in, as evidence by the bearish engulfing candle for SP500 this past week, and equally concerning was how smallcaps led to the downside, breaking their previous Oct lows.
For a few weeks now, we have pointed out that we are looking for a retest of the Oct lows at 2603, and last week's low was 2621.  However, given how the week closed we would not be surprised to see the 2603 level tested or even broken early in the week.
We noted extremely oversold conditions, coupled with bearish sentiment across the board 2 weeks ago.  The week following (week of 11/26) saw the markets bounce strong, but as it turned out it was just enough to relieve the oversold readings, after seeing last week's sell off.
If the market breaks breaks the 2605 or 2580 levels on a closing basis, then our lower targets will likely come into play, however, if 2603 holds support, then we won't rule out the possibility for more choppiness similar to the past few weeks.  The SP 500 is trading in a 200 point range band right now, so we will continue to watch market action for clues.  In addition, we will continue to watch sentiment readings as well as breadth for the markets.
There are many swing trade opportunities setting up, and in our Premium Service, we initiated 1 new swing trade last week, while taking 1/2 profits on 2 positions for 16% and 8% average gains last week.  Currently we have 6 swing trade positions.
---
SP 500 Charts: C wave most likely in progress <2600, targets 2513, 2458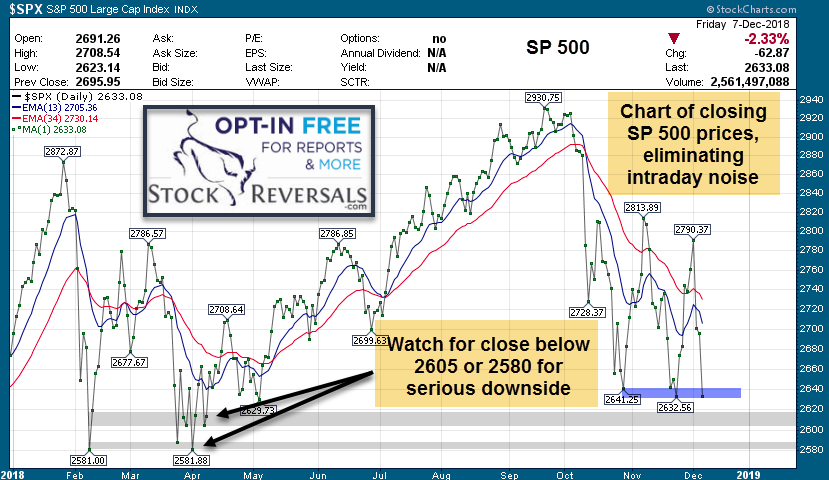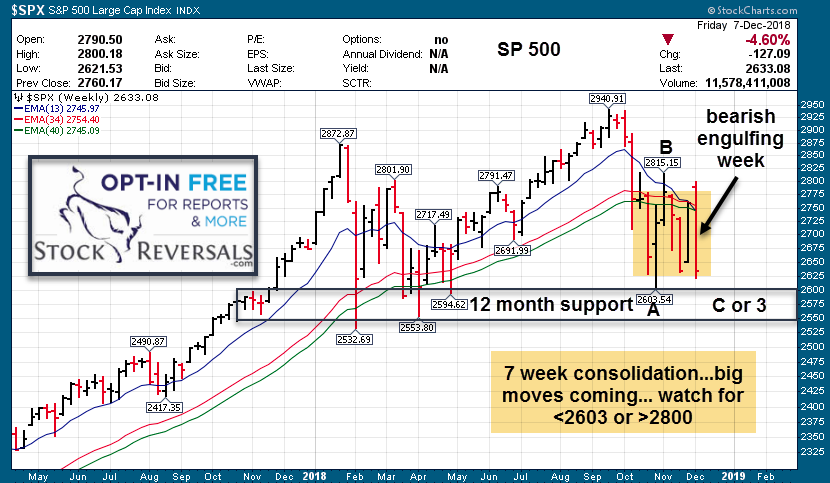 Biotech (XBI) Chart: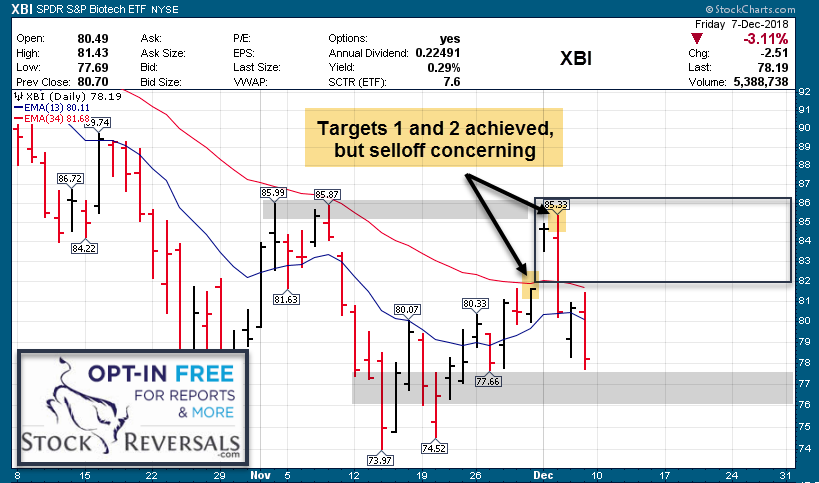 $VIX Chart: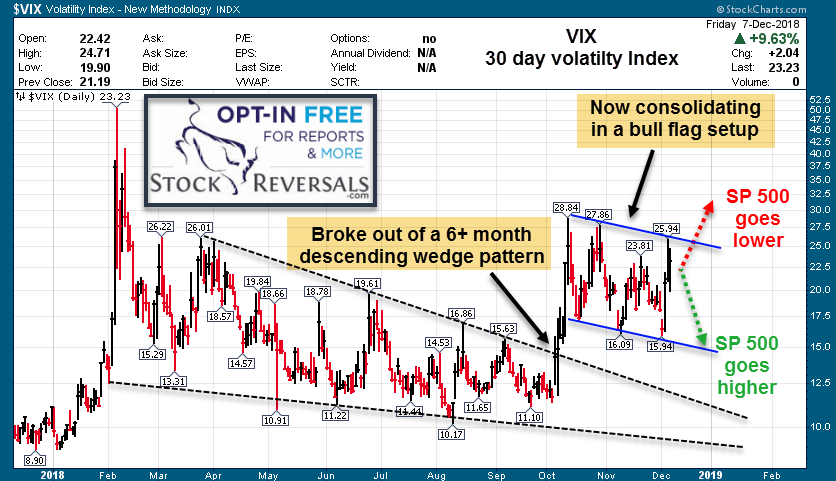 Our Premium service continues to be selective in alerting the best stock candidates, which we may hold as little as a few days or as long as weeks at a time.  We have a 70% Success Rate in terms of having profitable trades alerted to members since our September 2013 inception!
We highlight another swing trade winner we closed a partial position on this past week.  Swing Trade example: NBEV closed 1/2 this week for 16% gains
We identified a potential Inverse Head and Shoulders consolidation pattern on 11/30.  Our premium subscribers were alerted Friday before end of day, and had an opportunity to buy between 4.5-4.75.   As projected, the stock has rebounded and we have already taken partial profits so far, holding the other 1/2 currently.
Original Swing Trade alert chart, sent 11/30 to SRP Members: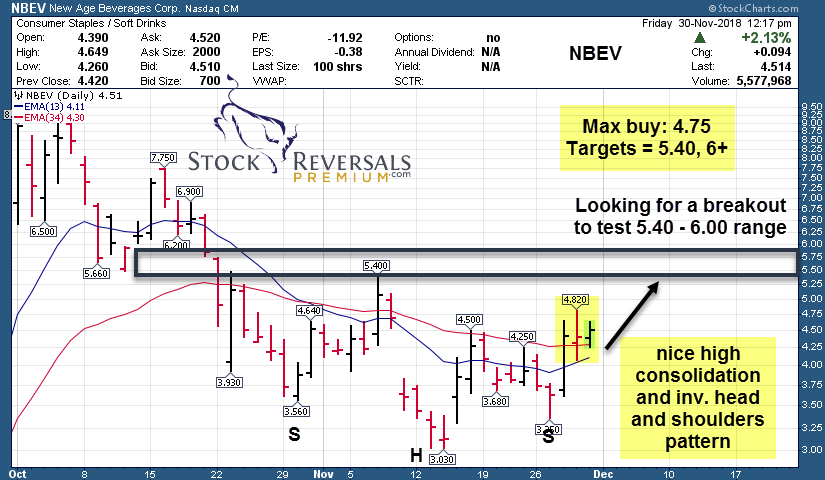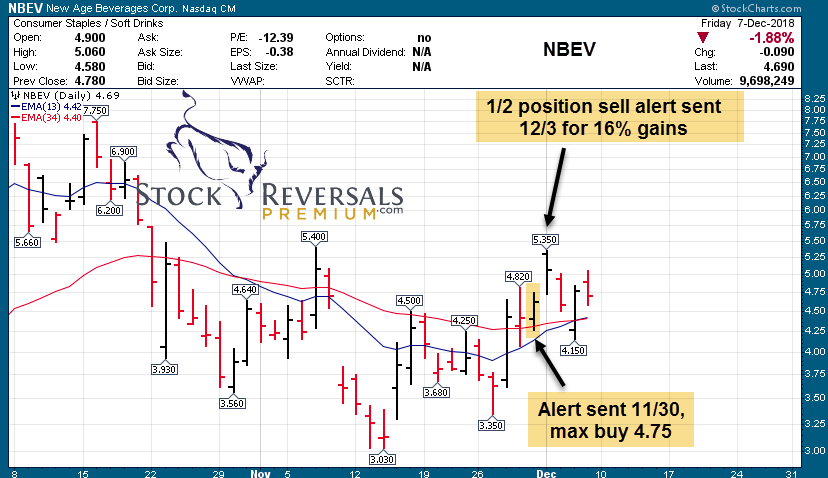 With only a 1 day hold time and 16% gain so far, $5,000 invested in this trade would have paid for almost 7 months' worth of SRP subscription!  
Learn more about becoming a premium member at Stockreversalspremium.com
---
Swing Trade Candidates:  Each week we provide 8-15 Swing Trade ideas to consider as part of our SRP service. We often pick a few from the list during the week as actual alerts.  We have 13 names this week.
NBEV – IHS pattern within bigger weekly flag.  Up last week, when markets were down -4-5%.  We can see 5.4 retest or even 6.0+.  Operates as a healthy functional beverage company. We entered at SRP on Friday this past week around 4.60 with stop in place and add areas.
GOOS – double inside week following 5 month breakout.  Beautiful high flag above breakout range.  Designs, manufactures, and sells premium outdoor apparel.
STOR – new highs last week, amidst market selloff.  Company is an internally managed net-lease real estate investment trust (REIT), that is the leader in the acquisition, investment and management of Single Tenant Operational Real Estate.
MEDP – In consolidation zone mentioned last weekend around 56-59, with entry could be good for a move to 65.  Clinical contract research organization, provides scientifically-driven outsourced clinical development services to the biotechnology, pharmaceutical, and medical device industries worldwide.
PTI – still coiling in a large bull flag, and could see a move to 6.00+ in short order.  Company operates as a clinical stage biopharmaceutical company, discovers and develops novel therapeutics to treat cystic fibrosis and other diseases caused by an imbalance in the proteostasis network.
VAPO – recent IPO.  Could be an interesting setup if we get a pullback here; Medical technology company, focuses on the development and commercialization of proprietary Hi-VNI technology products used to treat patients of various ages suffering from respiratory distress worldwide.
SWI – recent IPO. See if it tests 15.50 region, and would look for a move to 16.50+.  Company provides information technology (IT) infrastructure management software products in the United States and internationally.
ALLK – ascending base breakout; Company is a clinical stage biopharmaceutical company, focuses on developing therapeutic antibodies targeting allergic, inflammatory, and proliferative diseases.
SINA – 8 week base; looking for a retrace move back up to 72-76.  Company operates as an online media company in China.
EA – double bottom last week.  Many stocks sold off, but looking at a possible snapback rally.  Very oversold here, below monthly lower BB.  Company develops, markets, publishes, and distributes games, content, and services for game consoles, PCs, mobile phones, and tablets worldwide.
FN – 4 week ascending flag after power gap up to new 52 week highs, holding 13wma here.  Consolidation and relative strength to market. Provides optical packaging and precision optical, electro-mechanical, and electronic manufacturing services.
KEYS – mentioned last week we'd like to like to see pullback for next move up to 65.  Stock holding 34wma.  Company provides electronic design and test solutions to communications and electronics industries internationally.
AWK – looking at round number of 100 (or more) on ascending breakout; Company provides water and wastewater services in the United States and Canada.