23 Apr

Weekly Opportunities and Forecast Report- Bottom In?

This weekend we cover the following:
SP 500 long term and short term Elliott Wave Counts and  charts
Small caps break the downtrend?
Market Internals point to bottom soon?
NYSE Volume Summation index discussion, near Nov 2016 lows
12 Fresh  Stock ideas with notes
GOLD and OIL updates and charts
---
Take a moment to Opt In for our Free Stock research and Market Forecasts here: Name and E-mail only, and we do not share your information with any other entity.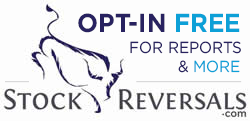 ---
The market has been in an 8 week base pattern roughly following the Intermediate Wave 3 of Major 3 highs at 2401 on the SP 500.  Wave 4 works off the extremes in bullish sentiment and underneath the relatively benign correction on the SP 500.  8 weeks is a common time frame for a correction to run its course.
The NASDAQ has been a leader especially the larger cap names, chip equipment sector, computer and software etc.
Below we can see the ABC pattern typical of a Wave 4 correction  from the 2401 Wave 3 highs.  The C wave hit 2328, just 5 points above the A wave lows.  We would like to see 2360 taken out on the upside in a closing basis to feel better about a Wave 5 up to 2443 targets.  Otherwise, still a 20-25% chance of a drop to 2300 ranges.
The Long Term count has not changed, we are still in a Bull Market and in Major Wave 3 up of Primary 5. We are trying to  confirm Intermediate Wave 4 is finished.  We also see the 13 week EMA line has been holding. Odds favor upside ahead.
---
Muddy Trading, here is why
We have more deterioration underneath as evidenced by the NYSE Volume Summation Index. This is at readings last seen near the US Election market lows prior to the 318 point rally.
This indicator tells you that fewer and fewer stocks are holding up the indices, and that we need more broad based participation to get a real rally underway.  If you have noted the muddiness of trading and failed breakouts and reversals back down of late, this chart kind of explains it if  you will. This means many former leading sectors are in decline or correcting, bases are forming all over the place.  Reversals are common, gains don't hold, they evaporate with selling pressure.  Soon this will change…
The McClellan Volume Summation Index measures advancing and declining volume on the NYSE. During the last month, approximately 4.56% more of each day's volume has traded in declining issues than in advancing issues, pushing this indicator towards the lower end of its range for the last two years.
---
GOLD- Up trending with 1329-1334 target possible
We had discussed a 50% retracement taking place several weeks ago when Gold bottomed at 1194. Since then a nice uptrend with a consolidation zone now underway.  Your basis measured move is to 1334 and awhile back we had a 1329 target out.  Could consolidate a few more weeks unless we see a conflagration in overseas politics with the France exit vote and North Korea and Russian tensions.
Following the Post US Election crash as outlined below, the uptrend has been impressive. You can see the old 1338 spike highs on the chart on the left side. Also the 13 week bullish cross over the 34 week EMA line.
We had warned our SRP members late last week though of a rising wedge in GOLD, so we are standing aside for now on any trades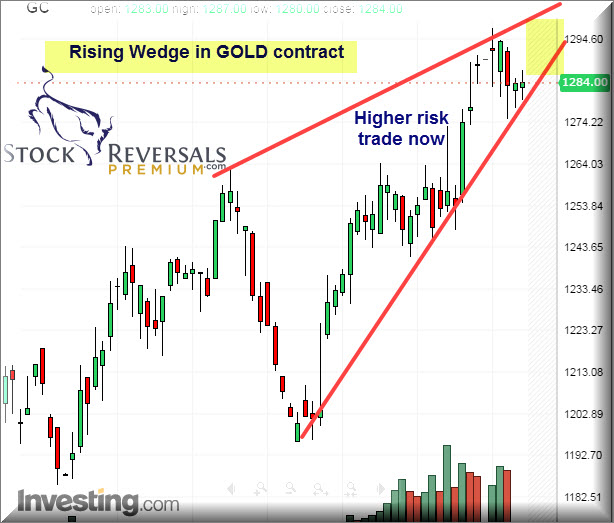 ---
OIL- Sudden reversal
We did not expect a reversal below 50 this past week in Oil, nor did most.  Oil on a pure technical basis is near a Fibonacci pivot here and needs to rally up soon or a re-test of the 47's is in the cards
---
Market Indicators:
Bottom is nigh if not already here for Intermediate wave 4
NYSE Summation index is near Nov 2016 lows per our above notes
NYSE short interest has been climbing
CNN Fear Gauge at 35, with a recent reading at 25 (100 is uber bullish)
Small Caps breaking out late last week over downtrend line (IWM ETF)
---
Swing Trade Ideas and Opportunities:
Each week we lay out several stocks that have formed nice base patterns or corrections and have strong fundamentals. Many of the names below are familiar to our list, but we try to add fresh ideas as well:
BEAT- On our list all the time it seems, one of the strongest stocks in the Medical sector. 2 weeks tight new base near highs, earnings are due Monday which is a short term risk. Recently announced big acquisition. Cardiac monitoring.
ESNT- Also on the list often, mortgage insurance provider expanding in the USA. 11 week base, testing 10 week line, PE ratio 16.
VEEV- One of the leaders in Cloud solutions and in this case targeted at the sales forces in the healthcare sector. 4 weeks tight base
AEIS- Also on the list often,  6 week base pattern testing the 10 week line.  Power conversion
AMAT- Frequently on the list, Chip Equipment makers are a leading sector of Technology. 6  week base pattern near highs, strong growth, reasonable PE
QIWI-  Russian provider of online and electronic payments, 6 week base near highs
BIVV- Biogen spinoff specializing in Hemophilia, 3 weeks tight base near highs
FTNT- Network security provider breaking out of 11 week base to highs
EXAS- Cologuard is their alternative test to standard colonoscopy procedures. Nearing breakout with earnings nigh
GTN- 8 week base pattern for one of largest broadcasters. PE 13, sales up 40% last quarter
WD- Multi-Family and Commercial loan financing.  8 week base pattern near highs
GMS- 6 week base pattern, interior construction product seller
SRP Swing Trade and Forecast Alert Service: Read up and join today –  See what our customers are saying, our full track record, sample alerts and reports and more.
"I really like what you're doing (and it's not just because you're on a hot streak right now).    I feel like you have the whole package – solid fundamental and technical expertise – combined with a very realistic grip on trading psychology." A.W. –  3/28/17- SRP Member
Check out our swing trade service where we provide research, reports, entry and exit alerts via SMS and Email, plus morning reports, market forecasts daily and more! www.stockreversalspremium.com