26 Jun

Weekly Forecasts and Trading Ideas Report- New Highs ahead?
Wave 5 up of Major Wave 3 continues while we are in a 4 week consolidation window for the SP 500.  Our targets originally were 2443 which we laid out in late March with 2476 a "perfect top" as we said back then.  So far the high around 2456 so still 20 points off the 2476 zone.  Given the rotational strength of the markets it would appear that the odds favor a further rally upwards.  We will be closing out the 2nd quarter of trading this week so often you will see some shuffling of the decks as money managers window dress for the quarterly report.
SP 500 Chart update: Weekly chart
Obviously the Biotech Sector has been on fire, and actually with the recent rally leading the race this year for best sector performance Year to Date up about 27%.  Recently we advised our SRP Members to go long for an aggressive swing trade around $50 on the LABU ETF, and our bet paid off as we pocked 19% gains on the back half of the trade this past week as it passed our 58.50 objectives.  The ETF continued higher and we had advised our subscribers to consider a 5% trailing stop loss as an alternative to taking the gains at 19%.  In either event, a great trade.
Updated XBI Chart:  Possible short term C wave high we pointed out Thursday morning, but Friday we saw more strength.  Good time to look at individual names on the next pullback.
Gold Update:
Gold we thought could rally short term from 1245 to 1266 area for  Futures Trade we laid out during the week for those who like futures. We did get a rally to 1260 and then backed off.  We would like to see Gold take out 1267 to confirm a new uptrend.
Take a moment to Opt In for our Free Stock research and Market Forecasts here: Name and E-mail only, and we do not share your information with any other entity.
[Recent winners given to SR Members in reports: STRP up  500% in 21 months from  Research Report. TRVG up 70% in 8 weeks from Post IPO Base report, SHOP up 230% from 2016 long term stock report and more!]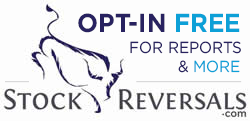 Market Notes:
This coming week ends the 1st quarter, and then next week we have a holiday light volume week with the 4th of July holiday ahead.
---
Trading Ideas- 13 plus 4 Post IPO Base Names
Each week we like to lay out some fresh ideas, some are repeated if still in good buy ranges or base patterns. More often than not this list we put out turns up some big winners in the weeks ahead.
OCLR-  Optical makers still strong, but consolidating.
LITE-  Also in the Optical networking sector, 3 week ascending base on on our list often of late
CTRL- 4 week base pattern, on our list multiple times of late for this household software/automation provider
SINA- Pullback entry here with 6 week corrective base. Net Asset value well over share price due to Cash and Value of their WB holdings.
FND- 5 week Post IPO base. Surged this past week to 46 then pulled back near 41 late in week, could be better entry
YY- 7 week base pattern but close to serious breakout ranges here.  Reasonable PE for this Chinese based broadcasting and applications provider
ZBRA- 5 week base pattern, on the list often of late. PE ratio 17 for RFID print related maker
MTSI- 6 week base pattern, chips for Internet applications, strong fundamentals
MOMO- 11 week base pattern now starting to turn up off flat base. We felt a recent pullback from 46 to 35 was 4th wave, we think 5th wave up is underway soon to 51-55 for this Chinese broadcaster/social media company
MMSI- Medical field is strong, nice base pattern
TTD- 7 week base pattern for this Digital Advertising  firm, one of our  favorites since $29
AAOI- Optical gear, test of 10 week line, consolidating after recent big run up from 46 to 70's
MDC- 7 week base pattern for this Home Builder, PE 15, Strong growth.
TWTR- Making further moves into broadcasting as we suggested a few months ago.  Must climb over 19
Post IPO Base Plays to consider: FND, CGBD, YEXT, ATH
---
SRP Swing Trade and Forecast Alert Service: Read up and join today –  See what our customers are saying, our full track record, sample alerts and reports and more.
This past week we closed  out LABU for 19% gains, TWLO for 17% gains, and took profits on BIVV for 14% Gains just naming a few!
"I really like what you're doing (and it's not just because you're on a hot streak right now).    I feel like you have the whole package – solid fundamental and technical expertise – combined with a very realistic grip on trading psychology." A.W. –  3/28/17- SRP Member
Check out our swing trade service where we provide research, reports, entry and exit alerts via SMS and Email, plus morning reports, market forecasts daily and more! www.stockreversalspremium.com