31 Jul

Weekly Forecasts and Trading Ideas Report
As we continue on in Intermediate Wave 5 of Major Wave 3, we are nearing a pivotal top area prior to an expected Major Wave 4 pattern and correction.  Major Wave 3 began at the 200 day moving average around 2083 on the SP 500 right around the US Presidential Election.  At SRP we had projected a top of 2476 back in late March and amazingly we hit that figure and a bit more on July 20th.
Right now are are looking at 2491 and 2525 as possible secondary topping points but the indexes have qualified for a top of Major Wave 3 in our opinion at this point.  We are also watching August 11th plus minus a day or so as a possible turn window, just something to keep in mind.  Once Major 4 begins we expect a 5-7% Index correction from the highs, nothing major frankly.  One week at a time though as we like to say at SRP.
This was our Thursday morning re market report chart for the Current Daily wave count fwiw:
Weekly Wave count for SP 500:
Take a moment to Opt In for our Free Stock research and Market Forecasts here: Name and E-mail only, and we do not share your information with any other entity.
[Recent winners given to SR Members in reports: STRP up  500% in 21 months from  Research Report. TRVG up 70% in 8 weeks from Post IPO Base report, SHOP up 230% from 2016 long term stock report and more!]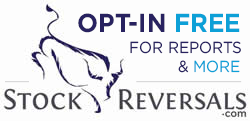 ---
In the meantime plenty of growth companies are reporting strong earnings as the Global recovery is in full sync. During  a Major Wave 3 this is to be expected as is high bullish sentiment.
Bulls are running at 60% in Advisory surveys vs only 16% Bears, this ratio is at the very top end of ratios and indicates everyone is on one side of the trade right now.
We are starting to see signs of inflation which in many ways is bullish for stocks as opposed to deflation. Commodities like Soybean Oil, Gold ,Gas, Oil, Copper, and Coffee are all in uptrends while the US Dollar is in a downtrend.
Gold may attack 1300 and then 1377 down the road:
Biotech continues in a 6 week base pattern, we made some nice swing trade gains on LABU ETF once again anticipating a rally, but the index is consolidating now.
---
Swing Trading for success: 8 Ideas to help you get on track
A few of our tips for success that keeps us with a 77% win rate since inception on swing trades at SRP
Set stops that are near market closing, not intra-day
Focus on fundamentals always, not just a pretty chart, make sure they both match up
Take 1/2 your profits on the way up, don't avoid banking gains while you have them
Use Fibonacci moving average lines as part of the analysis, 8, 21, and 34 day EMA averages
Be patient while holding a swing trade, allow for some volatility and don't be quick to take a loss
Always have a trade plan going into every trade, do not make it up as you go along
Fade crowd sentiment whenever possible
Look for 5, 8, 13 week base patterns to enter into a new swing, avoid the dead money syndrome
Using some of the above parameters, we have been closing profitable trade after profitable trade at SRP. Our last 7 weeks or so of closed out position results below:
RECENT RESULTS: Often we sell 1/2 at a time
76% Win Ratio in line with our record since September 2013 inception
7/27- Stopped out final 1/2 NTNX for 13% gains  7/27- Stopped out final 1/2 LABU for 2-4% Gains
7/26- Sold 1/2 JD for 11% Gains   7/25- Sold Final 1/2 BIVV for 16% Gains
7/25- Sold Final 1/2 YY for 24% Gains 7/18- Sold 1/2 NTNX for 20% Gains
7/17- Sold 1/2 YY for 15-17% Gains 6/27- Stopped out CAMT for 10% Loss
6/27- Stopped out SINA for 5% Loss 6/26- Sold Final 1/2 Z for 12% Gains
6/23- Sold 1/2 TWLO for 15-17% Avg Gains 6/21- Sold 1/2 TWLO for 10-11% Gains
6/21- Sold 1/2 Z for 7% Gains 6/20- Sold final 1/2 LABU for 19% Gains
6/19- Sold 1/2 BIVV for 12% Gains 6/19- Sold 1/2 TWLO for 12% Gains
6/15- Stopped out MOMO for 8% Loss 6/15- Stopped out CMCM final 1/2 for 4% loss
6/13- Sold 1/2 LABU for 7-8% Gains 6/12- Stopped out final 1/2 MKSI for 4% Loss
6/12- Stopped out TTWO for 6% Loss 6/8- Sold 1/2 MKSI for 8-10% Gains
6/2- Sold Final 1/2 GOOS for 20% Gains 6/1- Sold 1/2 CMCM for 8-10% Gains
6/1- Sold 1/2 GOOS for 8-10% Gains
---
Swing Trade Ideas–  Each week we profile 10-18 names with quick notes of companies with good fundamentals that may be setting up for a nice trade.  We often drill down further on this list and more to come up with alerts for SRP members during the week.
CTRL- 3 weeks tight base, earnings 8/3 for this home automation products maker
SINA- 11 week base, earnings 8/7, Media Content provider in China, majority owner of Weibo
AMAT- 11 week base for chip equipment maker, earnings 8/17
MTSI – 10 week base pattern, maker of chips for internet applications, EPS 8/1
MOMO- 16 week base, one of our favorite chinese names going back to 2016
ALRM- 6 week base for cloud security provider
TTD- 12 week base for Digital Advertising leader, EPS date not known
LNTH- 5 week base, earnings due 8/2, Diagnostic imaging agents, PE 23
SWIR- 5 month base for wireless infrastructure provider
WD- 13 week base for financing provider for Multi family and commercial
---
JOIN SRP MEMBERSHIP TODAY!
The past 8 weeks 19 winners and 6 losers, with winning percentage gains as high as 24%!
"I really like what you're doing (and it's not just because you're on a hot streak right now).    I feel like you have the whole package – solid fundamental and technical expertise – combined with a very realistic grip on trading psychology." A.W. –  3/28/17- SRP Member
Check out our swing trade service where we provide research, reports, entry and exit alerts via SMS and Email, plus morning reports, market forecasts daily and more! www.stockreversalspremium.com