30 Apr

Weekly Forecast plus 17 Swing Trade Ideas and more!

This week in the Forecast and Ideas Report: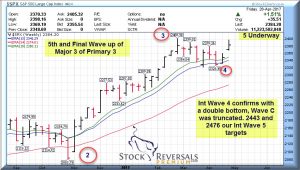 Take a moment to Opt In for our Free Stock research and Market Forecasts here: Name and E-mail only, and we do not share your information with any other entity.
[Recent winners given to SR Members in reports: STRP up 400% in 21 months from  Research Report. TRVG up 45% in 6 weeks from Post IPO Base report, SHOP up 200% from 2016 long term stock report and more!]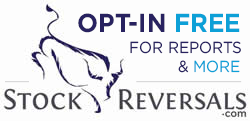 ---
Intermediate Wave 5 up confirms
IWM attempting 21 week breakout
Gold and Biotech updates
3x ETF trading ideas and methods
Post IPO Base trading- TRVG goes nuts
17 Fresh Swing Trade Ideas
---
We got our breakout to the upside this past week after outlining multiple bottoming indicators in last weeks forecast report.  Among them were rising NYSE Short interest, NYSE  McClellan Volume Summation Index being oversold and lower than the Nov 2016 low readings, CNN Fear Gauge at 35, with a recent reading at 25 (100 is uber bullish), and Small Caps breaking out the prior week over the downtrend line.
All of those factors and the Elliott Wave count said to watch for 2360 on the upside as a takeout area, and if so we would be in a confirmed wave 5 up.  To wit, this weekend IBD is calling the market in a "confirmed uptrend" from "uptrend under pressure".
Our targets were laid out as 2443 many weeks ago for the SP 500 2nd quarter 5th wave , and we are also adding 2476 now as of this past week.  These are considered by us the lower end of targets for Intermediate 5 of Major Wave 3.  Once this Major 3 is confirmed topped out, we expect a larger corrective Major 4 pattern to the downside.  However, we will not get ahead of ourselves but just giving you a roadmap.
Updated long term count on weekly chart below for SP 500:
We remind you we projected 2406 for Intermediate 3 back in late November and it topped at 2401.  We projected 2326 for Intermediate 4 as a minimal downside, and it bottomed at 2323.  Therefore out target of 2443 put out a few weeks ago we feel confident on with 2476 a perfect number.
IWM- Small Caps surge and now test 21 week breakout area
Last week we noted the prior week had a breakout of the downtrend line. IWM popped a bit higher this past week and is running up against a 140.46 prior high.
GOLD Update:
Uptrend is intact, but a consolidation for a few weeks is what we discussed.  1258 is a key support pivot, and Gold managed to hold the 1262 area this past week and surged up towards 1270 late in the week.  If this continues a turnaround to the upside then 3x ETF NUGT is in play again for a swing, which we are positioned for at SRP already.
BIOTECH UPDATE: XBI/LABU ETF'S
LABU a subject of a recent 3x ETF SRP Swing Trade alert with a $45 average entry, this past week we saw LABU surge 16%.  We like to take advantage of pivots via 3x ETF trades.  Biotech has been in a long base pattern but never lost the overall bullish uptrend. ASCO conference is every year in late May or early June, so we expect a typical run up ahead of it.  SRP members are up about 13-14% here on LABU after taking 1/2 off the table for 11% gains
---
SRP Track Record:  Have you considered joining our Swing Trade and Forecast Service? One of the top track records in the industry combined with personalized service, morning reports every day, SMS Text, Email, and Post on every position alerted, entry and exit advice, forecast models on SP 500, Gold, Biotech and more!  Read up and learn more at our SRP Website .  E-mail us for a 25% discount coupon at support@stockreversalspremium.com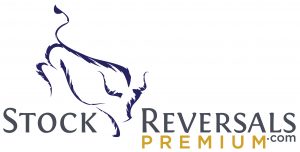 ---
Swing Trading Targets: 3x ETF trading, Base Pattern break outs, and Post IPO Bases
Post IPO Base Trading- TRVG 46% Gain in 6 weeks from pattern identification March 9th
Post IPO Base patterns are great human behavioral opportunities as often there is an "A HA" Moment when the crowd decides they like a stock, when before they had little interest.
A recent Post IPO Base sample is TRVG which we identified in the 2nd week of march around $12, now at $17.12 just 7 weeks later for a 42% gain!
It had a 13 week POST IPO base, a pullback to test a prior breakout area, and lack of interest in social media. The company was clearly growing at a 45% organic clip, the fastest of any online travel website service.  We felt the company was underloved.
Chart we did on 3/9/17 at $11.72 with arrows we drew expecting a re-test of $14.20 Post IPO Highs
The 3X ETF Trading Method:
Looking for ABC and Fibonacci Pivots on pullbacks to enter a Bull 3x ETF
Setting stops near close not intra-day
Averaging into position
Taking 1/2 off the table on the way up to lock in gains
At our SRP service we focus on 3 main types of Swing Trades for best results.  One of which is the 3x ETF trade.
We like to use 3x ETF Bull or Bear trades to take advantage of Biotech and Gold Stock swings frequently.  If we can look for a 3-5% swing up in the underlying ETF, we can aim for 9-15% gains often on the 3x Bull ETF for example.  These 3x ETF's are not generally intended to be long term holds as they are subject to a lot of "slippage" in price during consolidations and obviously corrections.  However, they can be great multiple day to few week swing vehicles to supplement stock trading when used effectively.
We like to identify corrective patterns and then buy into the 3x ETF that will benefit from a reversal
3x ETF's are best entered over a few days and not all at once, working into the position on dips.  Reversals usually come fast and furious as well.  This past week NUGT a great example as it waffled from 8.07 upon our Alert to average in, down to 7.61, then back to 8.30 all within a few days.  The other key with 3x ETF trading is placing a stop near the close of the market which is near or below the point where the projected pattern is not playing out as planned. We set strategic stops that are designed not to stop us out on a quick random drop, but to keep us in the trade so we do not miss the eventual reversal to the upside.
Below using the LABU sample you can see we entered near $45 average on a B Wave correction we identified in XBI.  We felt XBI would pull back to 67.50 from 69 area, or 50% of a recent rally A wave. This is when we averaged into LABU, the 3x ETF Bull.  We call this a B wave correction, and we enter during it and then aim to participate in the C wave rally to the upside:
We took 11% gains on the front half and are riding the remainder now up about 13-14%.
A few charts we did in the past few days for SRP members on this trade will show you how it works.
B wave correction pattern in XBI ETF gets us into LABU ETF on final leg down:
LABU Rides the new C wave to the upside:
Adding 3x ETF trading to your Stock Trading can reduce risks when done correctly as you remove single stock risks from your trading portfolio.  It also allows rapid capture of reversals to the upside in beat down sectors which you can then take advantage of by selling 1/2 your position into the strength, and holding the remainder with a raised stop.
---
Market Notes:
Leading ETF's this year to date are Biotechnology, Home Construction, Internet, and Technology.
Small Caps (IWM ETF) in a 21 week base, close to breakout after soaring post November Election
Major Wave 3 continues towards all time highs
---
Swing Trade Ideas: 17 fresh ideas
Each week we try to outline 10-15 stocks with nice base set ups and fundamentals.  Last week produced almost 80% winners on the list, the best being EXAS which rallied some 25%.
WD- Financier for commercial and multi-family loans. Breakout of base after being on last weeks list, earnings due 5/3
TDOC- 4 weeks tight closing price base pattern in 6 week base. Tele/Video on demand physician services
GLW- Glassware maker expanding into new product lines. Breakout of 13 week base, 39% growth recently
MGM- Casinos are hot again, 6 month base breakout this past week. EPS up 138% in most recent reporting period.
VRTX- Fast growing pharmaceutical in ascending 5 week base.  EPS up 350% in most recent reporting period.
AMAT- 7 week ascending base pattern with light pullback for this chip equipment King.  PE Ratio 15
RNG- Not your fathers Doorbell, expanding into more internet of things home applications
Z- Zillow riding the new boomlet in housing and real estate sales, nearing highs
CRTO-  Online Ad designer, earnings due 5/3, Breakout of 8 week base
COMM-  6 week base pattern for the connectivity products provider, Earnings due 5/4
CRUS- 4 week base pattern for integrated circuits and chip maker, rides back of Apple. 4 week base, earnings 5/3
RP- Realpage provides software/cloud based for property owners, 10 week base, earnings 5/2
BIVV-  Bioverativ is spin out of Biogen, specializing in Hemophilia. Breakout of 3 week base near highs. Earnings 5/3
ATH- Post IPO Base pattern of this annuity and insurance provider. Earnings 5/1
GMS- Breakout of 8 week base for this constructions products provider
ESNT- Mortgage insurance provider in all 50 states, should continue to ride housing boom. 13 week base. Earnings 5/5
PCRX- 10 week base turning upwards, Exparel is post surgical pain drug non Opioid. Earnings 5/1 and expanding into dental markets