10 Jul

Weekly Forecast and Trading Ideas- Major 3 ongoing?
Publishers of Stockreversals.com and  Stockreversalspremium.com 
---
Intermediate 5 of Major Wave 3 ongoing?
Obviously we had some turmoil as the 2nd quarter winded down as we advised our SRP members was likely.  Although the SP 500 Index dipped further than we would have liked, it has managed to hold a key weekly support line near 2405 on a possible double bottom this past week.  Its common for the end of a quarter to have a higher than usual amount of volatility as money managers are maneuvering their portfolios to lock down gains and also sell losers at the same time.  Therefore we try to not to confuse a typical wave pattern or forecast with a brief period of typical volatile trade.
As we started the 3rd quarter we advised our Members that we were taking the week off to relax and that the market may not show its hand until the 2nd week of July so here we are.  The assessment is that we are still in Major Wave 3 up from 1991 on the SP 500 and the high end targets we have had were 2443 and 2476 with an outside shot at 2525.  So far we obviously took out the 2443 pivot but 2476 remains on tap as possible.
SP 500 Weekly shows Intermediate Wave 5 of Major 3 still alive…
We pointed out the ES Futures chart to SRP Members in our Morning report on Friday, that trendline held: (Friday morning pre market chart)
---
The Tech sector has actually been going through a pretty normal ABC type correction after a torrid move up in the QQQ ETF from Election time into early June, it could be ready to resume the advance.
QQQ chart shows ABC pattern which for now looks corrective in nature. 132-134 would be support.
---
The small cap sector has been in a multi month base pattern after exploding upwards out of the November 2016 US Election, this may be poised to take over leadership along with Biotech.
6 week base on base pattern for IWM (Small Caps)
---
Biotech in a normal  3 week consolidation, showing leadership on a relative basis.
---
Gold has broken the series of higher lows and now is difficult to assess from here.  We have stayed out of this sector for many weeks at SRP on purpose. "When in doubt stay out".
---
Take a moment to Opt In for our Free Stock research and Market Forecasts here: Name and E-mail only, and we do not share your information with any other entity.
[Recent winners given to SR Members in reports: STRP up  500% in 21 months from  Research Report. TRVG up 70% in 8 weeks from Post IPO Base report, SHOP up 230% from 2016 long term stock report and more!]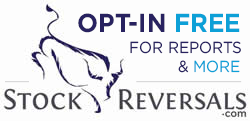 ---
Market Notes:
Homebuilders breaking out at the end  of last week, among them LGIH, LEN, MDC, DHI
Post IPO Base plays: CGBD, BY, YEXT
Short interest on NYSE is at highest levels since September 2016, which may be bullish
Investment Advisors at 52% Bullish
Biotech consolidating 3 weeks after prior rocket move up
---
Week Trading ideas- Each week we try to put out a list of names of interest that may be set up for gains in the days and weeks ahead. This list often turns up winners for members and or we take a few off the list if they meet criteria to set up as Swing Alerts
LITE- 7 week base pattern, Optical Communications. Popped back up last week.
SINA- 9 week base pattern, undervalued on PE ratio and below Net Asset Value per share, Chinese online
CTRL- 6 week base pattern, the connected home
ESNT- 6 month base may break out here, PE 15, mortgage insurance provider
YY- 9 week base pattern, PE ratio only 12, Social Platform in China,  broadcasting and more
MTSI- 9 week base pattern, next generation internet apps enabler
AAOI- 9 week base, up 9% last week after being on list prior 2 weeks
MDC- 9 week base for this home builder, PE 15, pays nice dividend
WD- 10 week base, on the list often for this provider of financing for multi family homes
SRP Swing Trade and Forecast Alert Service: Read up and join today –  See what our customers are saying, our full track record, sample alerts and reports and more.
The past few weeks we closed  out LABU for 19% gains, TWLO for 17% gains, and took profits on BIVV for 14% Gains just naming a few!
"I really like what you're doing (and it's not just because you're on a hot streak right now).    I feel like you have the whole package – solid fundamental and technical expertise – combined with a very realistic grip on trading psychology." A.W. –  3/28/17- SRP Member
Check out our swing trade service where we provide research, reports, entry and exit alerts via SMS and Email, plus morning reports, market forecasts daily and more! www.stockreversalspremium.com