20 Jan

Weekly Elliott Wave Forecasts and Trading Ideas Report
Subscription services for the Active Investor
---
StockReversals.com Members get an exclusive 25% coupon offer to join our SRP Swing Trade subscription service. 
Read up on all 5 Subscription Options at TheMarketAnalysts.Com or bottom of this Report
---
Weekly  Stock Market and Trading Strategies Report Week of Jan 20th 2020
This Week:
Biotech and GOLD Chart updates and notes

Micro Cap Index in new Bull Market- Chart

Where is top of Wave 3?  How high can market climb?

CNN Fear/Greed graph updated with notes

SP 500 Short and Long  Term forecast updates

Swing Trade ideas list… usually several winners each week
Recent results and notes: Stocks and ETF Trading Results
Consistent swing trade gains over last 3-4 months for SRP Members.  We alerted PRVB this week and it took off quickly, also recent new position ZTO Moving in our favor and we will be adding more positions shortly.
3x ETF Service on Stocktwits.com :  Closed out NUGT for 6% gains on Friday and we have hit 10 of our last 12 trades for profits from  6-17% ranges with losses contained to 2-3% on the two losers. Consider joining!!
20% off for my SRP Members… launched in September on Stocktwits.com. $40 a month less 20% coupon or $32 monthly.  We will solely trade 3x ETF Bull and Bear pairs as the market dictates. Read up at The3xetftrader.com   Use the Subscribe tab to join off your desktop on Stocktwits and use code "Save20forever" verbatim to get 20% off for life. 
---
Short Term and Long Term Elliott Wave Views for the SP 500 Index
Short Term:   5th wave of this 5 wave move up from 2822 has extended a bit beyond expectations. 5th waves are hard to project, but the next extended resistance zone is around 3257 on the SP 500
Long Term:   (Wave  3 of Intermediate 3 of Major 3).  The long term Primary Wave 5 up from Feb 2016 lows continues, we are in Major Wave 3 up from the 2345 lows of Major 2 in Dec 2018.  We continue up in Intermediate Wave 3 of Major Wave 3 of Primary 5, this could extend to 3357 area eventually before completed… then  Wave 4 of Intermediate 3 likely, guessing Jan/February time frame possible for start of of Intermediate 4.
---
Long Term View:  Int 3 of Major 3 underway to 3357 resistance?
Larger degree Wave 4 of Intermediate 3 of Major 3 of Primary 5 is due soon once we confirm the top of  wave 3, 3150's possible once top of III confirmed.
Click to Enlarge
---

Short Term View: Wave 5 of 3 continues higher
5th wave up off this advance from 2822 Wave 2 lows (5 waves to complete a 3rd wave structure) continues a  bit extended. Watching 3357 resistance.
See the Long Term chart at top
---
Market Notes and Indicator Charts:
SP 500 index is well above is 200 day EMA line, the highest reading since early 2018 before the Bear Cycle started then.  This is common though as part of a larger Intermediate Wave 3 up, however not sustainable without a correction in price and sentiment.  CNN Greed readings are at nosebleed levels and the SP 500 is also 9% above its 125 day moving average, the highest in 2 years. Everyone is long the market, but a Wave 4 will correct in due course.
Biotech in a nice 8 week consolidation after a brief pullback, see updated chart of XBI

Gold consolidating nicely and could have nice gains ahead in 2020, see updated charts of GDX and GLD

Micro Cap stocks also leading as projected last fall, should be very strong 2020, see chart of IWC ETF

CNN Fear/Greed chart updated with notes
XBI ETF (Biotech) nice 8 week base, could break out
Click to Enlarge
GOLD consolidating and could power up, should be strong 2020
Click to Enlarge
3x ETF NUGT trade on Stocktwits Service. 6% gain this past week on top of 17% gain 2 weeks ago!  Read up at The3xETFTrader.com and join! 
GDX (Gold Miners) ETF index also looks bullish on corrective pattern
Click to Enlarge
IWC ETF- Micro Cap leading as projected this past fall for 2020, Join Tippingpointstocks.com to profit!! 
Click to Enlarge
CNN Fear/Greed chart with notes: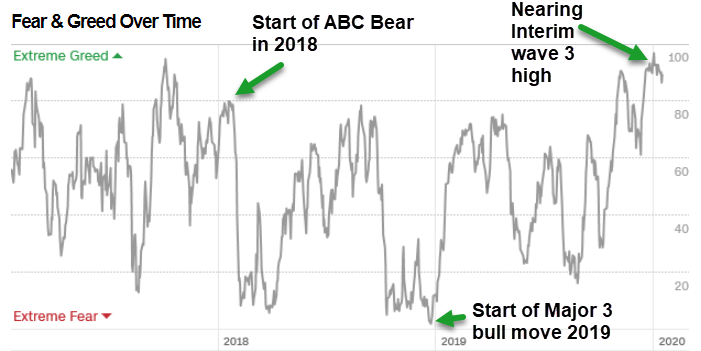 ---
Weekly ideas and tips on Swing Trading Success:  Watch for emerging sectors
The market is always rotating to an extent and new sectors start coming into favor from being out of favor. Good example of this was Biotech which was bleeding into October this past fall and everyone hated it, now its been leading ever since. Other strong sectors have been homebuilders, chip stocks, and obviously technology. Gold could re-emerge again as well and you want to always be watching for which sectors to swing trade and or invest in as the dynamic changes often.
---
Swing Trade Candidates:  A list of ideas to consider for both SRP and SR members.
Updated 1/20/2020-  Many names off our weekly list have done extremely well, so this is always a good place to start some research. We alert specific trades for SRP members sometimes off this list, but not always. Consider this another "Idea" lab for you as a trader. Recent winners CDLX, LX, DT, and many more.
This week as usual we have an updated list of some ideas for the intermediate window in addition to or in concert with open SRP positions and or possibly future trade alerts.
ZTO- CHART LINK
Current SRP position recently opened, but still attractive. Ascending base out of 4 month consolidation. China stocks starting to move. Near 52 week highs, 4 weeks tight pattern.  Provides express delivery services in China
STNE- CHART LINK
Another SRP position just re-opened after we already traded this once recently for nice gains.   3 weeks tight near 52 week highs.   FINTECH solutions in Brazil, a Warren Buffett top holding too.
RDFN- CHART LINK
Also a current SRP position,  we remain 1/2 long from about 19.50 having already taken our 8% profits on the front 1/2 of the trade. We are up about 16-17% on the final 1/2, currently in the mid 23's but could still run.
INMD- CHART LINK
On and off the list frequently since the IPO, first highlighting this opportunity at $24, it ran to $50 area at one point. 11 week overall post IPO base pattern. Israeli maker of radio frequency devices for non invasive procedures.
XP- CHART LINK
6 week Post IPO base pattern. Brazilian securities brokerage firm that recently went public.
PAGS- CHART LINK
Returning to the list after a long absence. 4 weeks ascending base on the right side of the overall pattern after a strong correction. Brazilian firm providing payment technologies.
HMI- CHART LINK
Breaking out of 7 week consolidating base this past week, but still below 52 week highs.  Chinese company that is partnered with Xiaomi to provide smart wearable devices, reasonable PE ratio and good growth.
PING- CHART LINK
5 week Post IPO  base near highs. Provides intelligent identity security solutions.
CNXN- CHART LINK
12 week base. Provides branded computers, software, solutions etc for consumers and businesses.
DT- CHART LINK
9 week POST IPO Corrective pattern.   6th week in a row on list, still looks good. Develops software intelligence platform to allow customers to modernize and automate IT operations.
---

The3xetftrader.com now launching with service hosted on Stocktwits.com.  Launched on 9/16/19 ! Use COUPON CODE "Save20forever" (Case sensitive)  for 20% off .
We have hit 8 of our last 9 trades for profits as of Jan 17th 2020!!
 We are trading 3x ETF pairs in Bull or Bear movements based on my Elliott Wave analysis and more.
---
We offer five different subscription services for our Members, helping you cover the gamut of SP 500 futures trading with tax favorable treatment, Long Term Growth Stocks, Swing Trading Stocks and ETF's, 3x ETF only Swing Trade Service on Stocktwits.com, and Auto-Trade execution service for SP 500 futures trading.
StockReversalsPremium.com–  Swing Trading with SMS text, Email, and Post on each alert, morning pre market reports daily on the SP 500 forecasts, position updates, and strategy notes.
70% success rate since inception September 2013!
The3xETFTrader.com – 3x ETF bull and bear leveraged swing trading using my Elliot Wave and behavioral pattern analysis.
$40 a month and only $32 using code Save20forever on stocktwits! Consistent profits without single stock risk!
Tippingpointstocks.com– Growth Stocks with 50-200% upside with our proprietary research! We cashed out on SOLO for over 200% gains in 5 weeks!  Micro-Cap and Small Caps stocks are the focus! PRVB a big winner now!
E-Mini Future Trading Service-Hosted on Stocktwits.com trading the ES Futures contract (SP 500)
Up over 355 points since Inception late October 2019. Thats a 155% annualized gain!! 
Daily morning SP 500 Futures trading guidance and alerts! We keep you on the right side of the market direction and trades.  Tax Favorable treatment, simple reporting to IRS, eligible for IRA and Regular Accounts both!
This service focuses on the SP 500 using our market map models and then translates that to Futures Trading advice and alerts. Short term and long term views…morning updates, trades and more.
Join for $50 a month! Use coupon code SAVE20 to try for 20% off. 
ESAlerts.com– Auto-Trading SP 500 Futures Service
Launched in late January 2019 for those who are too busy to wait for alerts to buy and sell and want us to handle executions for you with our Trading Firm in Chicago.
Contact Dave with any questions (Dave@Themarketanalysts.com)