22 Jan

TPS Research Report- GOED

GOED- 1847 Goedeker Inc  $8.55 at Report Time

BUY From 8 to 9.25

Spun out of a holding company in an IPO in summer 2020 at $10 per share to mostly retail investors, story is not followed yet but will be soon after a merger closes.  -Dave

Only publicly traded pure play  Appliance E commerce business in the stock market. Tipping Point for this segment of Retail.

Presentation Video by CEO:

Extremely underfollowed and undervalued online E commerce play ahead of a merger that will create a powerhouse in online appliance sales to consumers. The tipping point will come once the merger is closed and investors start to realize the discount this trades at to comparables.
---
Investor Presentation on Appliance Connection Merger
---
Details:
1.1 Million shares of 6.1 Million outstanding sold at $10 per share in July 2020 IPO on NYSE, trading $2 per share below IPO price even though the story has got much better since.

2.6 M shares held by 1847, The  Parent Holding company

2 million shares in trading float roughly which allows of massive upside as demand for shares increase

Post Merger 29m in cash or about $2 per share in cash assuming about 13 million shares outstanding fully diluted (Share count post merger is projected based on company slide deck)

Soon to merge and complete an arrangement with The Appliance Connection creating the largest online retailer of appliances at a dramatic discount to comparables like Wayfair, Purple, Amazon, Etsy etc.
Recent Sales Growth: From Dec 29th PR
1847 Goedeker Highlights (12-1 through 12-28):
Orders increased 103% year-over-year to $9.1M vs. $4.5M in the prior year period

Site sessions increased 96% year-over-year to 752K vs. 384K in the prior year period

Received record number of sales calls answering 97% w/ an average hold time of just 31 seconds
Appliances Connection reported double-digit growth in site visits and orders during the period, consistent with similar trends experienced by Goedekers. Both companies continue to capitalize on the opportunities that the shift to online has created.
According to Paysafe, there are early indicators the shift to online shopping will persist beyond the end of the pandemic, while data from Bank of America and the US Department of Commerce indicate ecommerce market penetration in the US grew more in 2020 than over the entirety of the past decade.
"Our strong Black Friday / Cyber Monday performance accelerated through the month of December," stated Doug Moore, CEO of 1847 Goedeker. "Exceptional execution by our entire team positions us well to continue to capitalize on the growing trend towards buying appliances online."
Albert Fouerti, President of Appliances Connection, added, "This has been an incredible periodof record-breaking growth for Appliances Connection. We are excited with the market-leading potential of our combined companies in 2021 and beyond."
Industry Growth: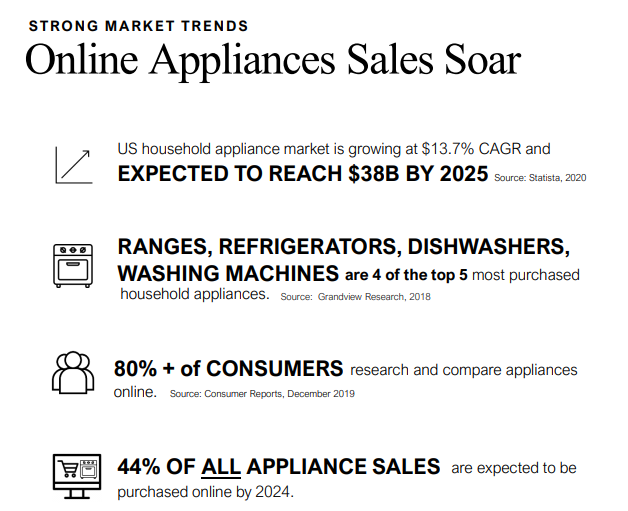 Valuation discrepancy:
Wayfair trades at a 38x Enterprise Value to Ebitda and Purple trades at and 18x multiple
The comparable Industry group average (Amazon, Wayfair, Etsy, Purple)  is 28x EV/EBITDA, GOED Combined entity post merger at $8 price per share now is at an 8.8x multiple  or  a 1 to 3 discount
GOED combined entity post merger valuation  is at  .55x EV/Sales ratio with the industry average at 4.2x, a 1 to 7 discount
So even if we look at the stock doubling post merger to $18 plus (See my analysis of MWK which was similar at $7 when I said it was worth 24-30 ( Now $21.50)… this is an extreme value buy ahead of a Tipping Point as the merger closes. 
550 million in estimates in sales for 2021 vs 362 million for 2020 combined or 53% year over year growth which should push the Price to Sales ratio and other PE etc ratios higher along with the share price post merger.
The existing competitors can't compete on this scale: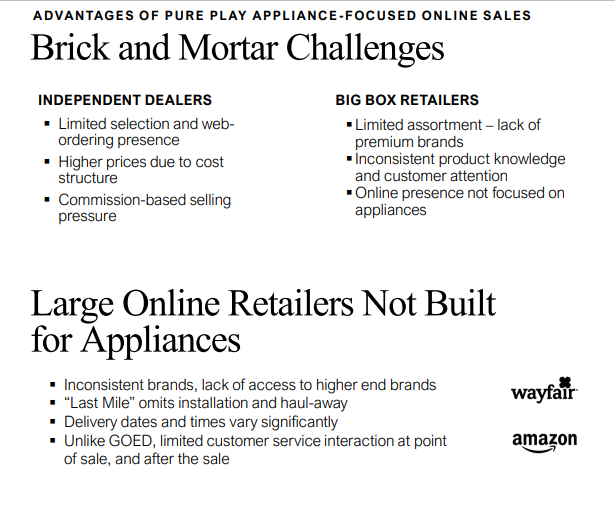 The Premium part of the market is under served and with the acquisition of Appliance Connection they add several very high end brands.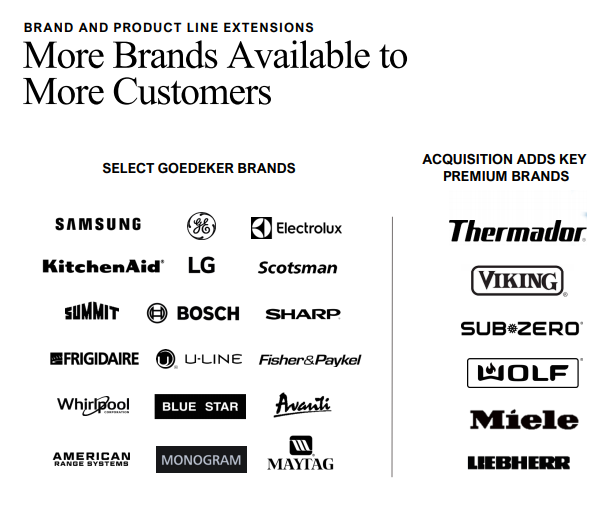 Order growth and shipping efficiencies will be dramatic post merger: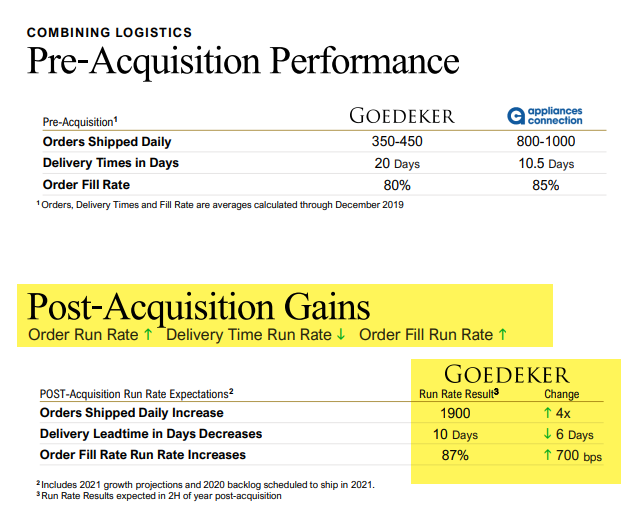 Notes from my conversation with CEO Doug Moore:
Doug Moore- Chairman, was chief merchant of Circuit City, and also involved with Sears
COVID Accelerated a Sea change for consumers. Customers are much more comfortable with big ticket goods online
Wayfair has been trying since 2017 to enter space and has had difficulty as there are logistical issues that GOED is an expert at along with merger partner Appliance Connection. Wayfair has not been able to get access to the appliances they want from the manufacturers for various reasons.
We intend to be the nations largest and most profitable online appliance company in the United States.
Delivery is difficult, you cant have multiple deliveries and charge customer when you make a mistake. The Big Box stores only have so many appliances, the person may or may not be that knowledgeable that the consumer is dealing with either.  Selection is limited and frustrating.
GOED combined entity is going after 1 billion in revenues  in this industry, currently industry at 18-19 b on way to 24-25b next few years with 13.7% compounded growth rates projected. Market share getting taken up by online players.
The Appliance Connection, AJ Madison, and GOED are the 3 pure plays for retail of appliances. There are
25 or 30 global manufacturers with constant innovations.
Higher income customer, 95% of business through credit cards… they have 20k credit card lines etc so are higher end consumers whereas the big box stores are working with 50% of products subsidized etc.
Speed to delivery to the customers and logisitics is their key upside for GOED.
One options is using a warehouse as a showroom as one way to go, place  it next to 7-9 regional warehouses of GE and Whirlpool etc… this could be huge advantage delivery wise etc.
Upon the IPO, they cleaned up the balance sheet.  These executives at the combined entity can continue to scale up.
It cost less to run the company from a cap-ex standpoint than to add 3 Home Depots in Atlanta for example.
"Valuation has not yet caught up with the story. Enterprise value should be multiple of where we are now."
Spending more time and money on customers than any other company.   $45,000 salaried sales people on phone with 50-60 people a day.  High tech High touch.
Largest pure play retailer when combined. AJ Madison is part of eco system.  Lowes, Home Depot, Best Buy taking 15% of market for now, and that may move up. 
Post Merger share structure:  Stock, Debt, and Cash details still being worked out.
Little or No debt at the moment. Talking to advisors, trying to figure out the best combination, debt, equity, cash etc…
Ebidta/Sales combined story is exciting.  Product not being available has been a problem this year, not lack of demand.  The Supply chain has been compromised.  Shipping under 50% of orders this year with Bosch due to supply issues for example.
Trying not to over promise on margin dollar creating, 38mm for 2021 projection. 589m sales in 2021 year, 787m in 2022. 2 full months of orders not even shipped yet, 14 months year if you will.  Immediate improvement in logistics. Change in cost of goods, save time, marketing costs etc.
IPO at $10 for 1.1 million shares was mostly retail, will all change when they scale differently.  10 million IPO is small.
More than 90% of homes have 5 main appliances, changed every 7 years on average.  2,000 independents, wobbly to going out of business. Overall appliance business only up 2%, this is a market grab opportunity.
---
Investing Advice: Targets $18-$30 from $8-9.25 maximum entry for 100-227% potential
Try to buy at 9.25  maximum entry price adding to $8 on dips down the road if so
Target is $18 post merger for a double in 2021, with potential to $30 using 1/2 the comparable EV/Sales ratio given