08 Feb

TPS Research on GRBX

Issued to paying TPS members on 2/8/21 pre market at 1.45  tippingpointstocks.com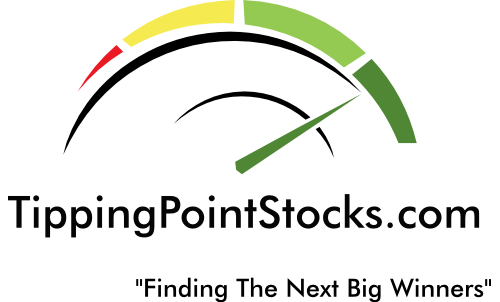 GRBX- GreenBox POS  $1.45 per share
Stock is on the Pink Sheets technically, but soon up listing to NASDAQ in two weeks.  Use limit orders to buy and you may have to adjust them depending on price action going forward. 
This idea was brought to me by my friends at MZ Capital Group. They were behind EXPI, HYRE, SOLO, MEEC and numerous  additional non TPS related winners.  When they tell me about their best ideas, I listen and do the research and due diligence right after. I'm told this is timely. I listened to the recent Investor Call, Reviewed the Investor Deck, and discussed with the top  experts at MZ Capital last week.
An emerging financial technology  (FINTECH) company leveraging proprietary blockchain security to build customized payment solutions at point of sale, debit card, bank to bank transactions, crypto and more.
Soon to change symbol to GBOX in about two weeks on the up list to NASDAQ.
Currently in discussions with Visa which could smash the shares higher if they transact a partnership, also with major banks, and regionals as well.
Have to get in now before the crowd figures this out down the line, and this has the potential to go very viral in time as investors are looking for pure plays in Blockchain technology, E Pay, Crytpo Etc. – Dave
6-12 month target $3.50 plus (Conservatively)
275 Million Market Cap
190 M Shares outstanding, 80% owned by insiders, 21 million shares in float 
Up listing to NASDAQ in about two weeks, a change to GBOX Symbol, Listed on Stocktwits then, not now
Feb 2021 Investor Presentation
Website: Greenboxpos.com
---
Dave's Note:
FINTECH play just now emerging into the limelight but very underfollowed right now.
Greenbox is working with major financial institutions, recently announcing an accretive acquisition, its at a Tipping Point to invest as Blockchain transactions go mainstream. Starting their own "Coin" or "Token" for securitized transactions with new regulations opening up the floodgates. The Tipping Point is arriving now.
---
Here are the key bullets to the story, I can fill in the blanks going forward on the regular updates: A typical high end Fintech trades for 40x EBITDA/Cash Flow, this is well under that.
Every day, businesses exchange value with their suppliers, customers, and other organizations. These exchanges, known as transactions must be completed precisely, quickly, and most of all securely to maximize a business' potential while reducing costs. To achieve this, more and more businesses are turning to blockchain technology, such as the patented technology offered by GreenBox to facilitate and secure these critical transactions. This is about to go mainstream in a very big way. Hence my recent recommendation on MARA in the Bitcoin area for example. 
Legacy payment systems all face the same weaknesses:
• Speed and efficiency of settlement
• Hacking
• Privacy violations
• Limited bandwidth
• Limited growth potential
• Emerging migration out of legacy systems into blockchain infrastructure
GreenBox's proprietary blockchain ledger payment systems were built from the ground up to protect against these threats, offering a secure, reliable, private, un-hackable, and infinitely scalable system.
---
| | |
| --- | --- |
| GreenBox POS ("GRBX") is a groundbreaking technology company that builds customized payment solutions for a variety of industries. The company develops individual disruptive applications integrated in an end-to-end suite of financial products, supporting multiple industries with an emphasis on Blockchain secured ledger technology. The company was awarded 5 provisional patents for its technology. GreenBox POS develops the following main products: POS (Point of Sale software and hardware solutions); DEL (delivery app, APIs to POS and PAY); PAY (payment app, providing financial APIs to all other components); KIOSK (deposit, cash and E-wallet management). All products, services and custom hardware are available now from GRBX. | |
GreenBox develops all software in-house and with international subsidiaries, which allows the company to provide individualized electronics modifications in partnership with different vendors. Custom POS machines are available as an upgrade from existing solutions currently in use. First-time merchants can also take advantage of custom-built kiosk machines powered by blockchain technology, complete with e-wallet integration downloadable via Android or iOS apps, or via installed cash-loading kiosks.
---
0 Debt, 80% of the company is owned by management who are very strong stewards of capital.

A reverse split and up listing is coming very soon which will bring notoriety to the company and more investors and allow institutions and brokerage platforms to open up more trading in the stock and  for investment.

Greenbox is moving aggressively into Token based Encrypted Block Chain security for transactions, 5 patents and 3 pending.

In a recent Investor conference call, Chairman projected a  PE ratio of 40 once they are up listed to NASDAQ with 18m current low ball profit estimate.

At 40 x that is 720 million market cap or about  a 3.50 per share post merger share count with Chart Savyy just on current low end projections for 2021.
Chart Savvy is the firm they are in process of acquiring for 31 million in stock at a premium $2 valuation to current price. The processing volumes on this acquisition will fall to the bottom line at a good value acquisition price.  Growth was amazing for Chart Savvy and then the pandemic hit them hard, this allowed this ongoing acquisition to be completed or agreed to at favorable terms to  both companies and shareholders in the Chairman's opinion.  Addition to bottom line with PE of 40 adds about 520m market cap at 40x 13 m profit from Chart Savvy… (estimated). Adds $2 per share or more) .
Crytpo Currency designs are evolving as the market is  moving rapidly.  Greenbox has first mover advantage due to their Blockchain technology and patents. New Secure Token Will Position GreenBox at the Forefront of Global Shift Towards Digital Currency Payments Technology

Stable Coins or Digital Dollars if you will are being developed, including a Greenbox Token for processing

Greenbox has white label solutions for banks and are in discussions.

Greenbox is talking with multiple larger banks now, in the Debit Cards/Crypto area

Visa Direct platform being developed- Push to card transactions  can settle in crytpo and populate dollars into a debit card in their pocket at same time in real time. Fiserve is also working with them on a new platform for Credit/Debit cards.

A brand new approach to cryptocurrency is  being developed by Greenbox and we will hear more on that soon.

The Office of Comptroller of Currency (OCC) just recently gave the green light and has paved the way for banks to connect to blockchains as a validator nodes, and as a result, transact using stable coin ecosystems. Hence they are developing their own coin and this gives Greenbox early runway.

Global focus on shifting to digital currency by China, Europe and the United States.

GreenBox Gen3 platform that is now rolling out provides a compliant solution for financial institutions, merchants, and consumers, as a service or as white label solution.  Can do the work for the bank or the bank can adopt it entirely on their own system

Cryptocurrencies design evolving into more secure, volatility proof, liquid and cross platform transactable asset base

GreenBox is expanding into delivery,  curbside checkout, rideshare etc…
Gen3 Platform:
Recent upgrades accelerate scale and will open new verticals. A tipping point in the growth of the platform.
Recurring, High-Margin Revenue:
Net fee equivalent to 2-3% of transaction volume which will increase from 2% now and enables scalable, high-margin revenue.
FY2021 Guidance:
Net Income of at least $18 million, assumes $600 million in Annual Gross Processing Volume, they believe this is very conservative with the tailwinds of OCC regulations now opening up and their new Generation 3 offering etc.
Positive Macro-Economic Tailwinds:
Well positioned to benefit from global shift to cashless payments and digital currency
Strong Intellectual Property Portfolio:
Comprehensive IP strategy with 5 patents issued and additional patents pending.
Experienced Management:
Tenured executive team with robust experience in merchant services and secure payment technology. Recently GreenBox  welcomed Seasoned C-Suite and Payment Industry Executive Vanessa Luna as Chief Operating Officer Ahead of Nasdaq their Up listing on January 11th
Goal: Up list to Nasdaq in Q1/2021, looks like 1-2 weeks out, reverse split the shares, 40m equity rolling in.
Up listing allows more Brokerage platforms to accept the stock. Right now Interactive Brokers doesn't take an order for example.  This also allows institutions to recommend and write about and or buy the shares. More liquidity etc.  Have commitments up to 40 million to add to capital/equity if needed for NASDAQ requirements and then some.
8 Growth Drivers:
Expansion into European market with SEPA payment capabilities

Sustained focus on growing existing relationships with tier-1 banks

Technology improvements, SAAS  Acquiring banking bandwidth in order to decrease declined transaction volume and capture associated fees

Potential M&A activities to expand footprint

Recent addition of FOREX and Cryptocurrency processing capabilities

Nasdaq Up listing, Acquisitions of opportunistic merchant portfolios etc.

 Continue to develop relationships with strategic partners to scale on next generation product

Enhance platform with additional development resources.
---
Buy Advice: Stock is on the Pink Sheets technically, but soon up listing to NASDAQ in two weeks.  Use limit orders to buy and you may have to adjust them depending on price action going forward. 
Again, this will reverse split (Not sure what ratio) upon the NASDAQ Uplist  which is common to get on platforms and allow institutions in going forward etc. This will reduce the share count as well but increase your price per share, so it's just math.
Pre reverse split advice:
Keep in mind Chart Savvy which they are working on acquiring near term, is allowing GRBX to use a $2 per share GRBX Valuation for the merger agreement (15.5m shares at $2 or 31 million) That tells you what you need to know.
Max buy 1.75 and on any dips to 1.25-1.40 we add or I will advise as always.  (As I did recently with LTRN, ATOM, BIVI, INMB etc)
Target is $3.50 in 6-12 months (Pre split price) which I think is conservative and assumes no deals with VISA or new announcements with Major or Regional banks, or new acquisitions, so at least a 100% gainer if I'm right.
Should be plenty of stock supply under 1.75 as most investors are not aware of the story yet
Chart just broke out on volume last week I think due to the pending Up List and the Conference Call update