12 Dec

TPS Report- MEEC

MEEC .50 cents at time of report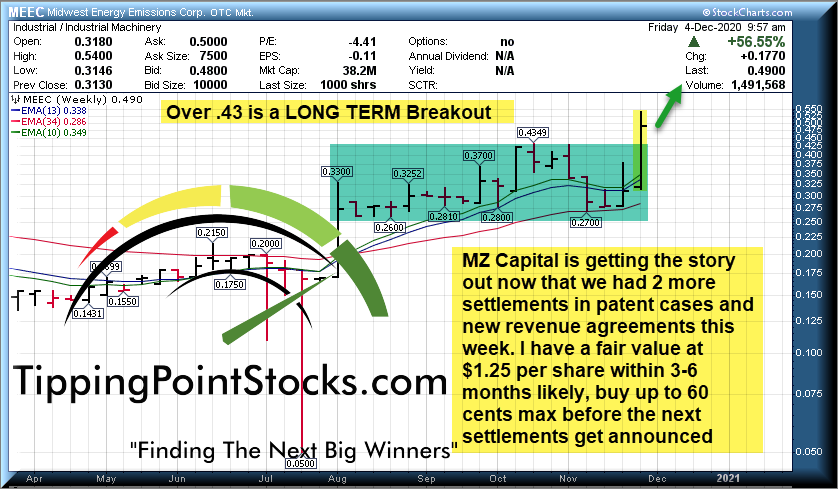 A Clean Energy play with massive upside, my targets are conservative
MEEC December 2020 Investor Presentation  (Click to download PDF)
Shares outstanding 80 million

Management owns 20%

Market cap at 50 cents is 40 million

Projected 2021 revenue is 47 Million, 2022 74 Million, 2023 103 Million
Buy up to 60 cents adding to 42 cents on any future dips if they happen.
Possible double in 1st quarter 2021 based on expected court settlements and new revenue agrements and MZ Capital group now in charge of I.R.
12-13 month target $1.50 on the low end based on 14 cents per share earnings or 11x earnings, $2.25 on the high end based on 16x earnings for 3-4x return potential from 55 cents max entry over 12-13 months.
Plans to Up list to NASDAQ in 2021 (Similar to Greenbox GRBX)
This I.R. firm MZ Capital often gives me ideas when they are getting ready to take on a client to get their story out.  I got the call this week on MEEC and after a conversation with the CEO of MZ Capital Greg Falesnik,  and the CEO of MEEC on Friday at 1pm EST Today (will pass along notes later), along with further due diligence, this is at a Tipping Point for Investors. The first of many Patent settlement and long term revenue contract agreements should now begin to roll in with a Domino effect- Dave
MZ Capital Group which started working with EXPI at $2 (been to 50, former TPS Play), GRBX at 12 cents which they told me about this past August, (Just hit $1.00 5 months later for an 8 bagger), SOLO at $1 which hit $13 20 months later (13 bagger and TPS made about 300% on it last year) just naming a few.. has recently signed on MEEC as a client to get the story out, and MEEC is at a Tipping Point in the growth story.
Recent Growth trajectories on MZ Capital Group clients after taking them on- GRBX, EXPI, SOLO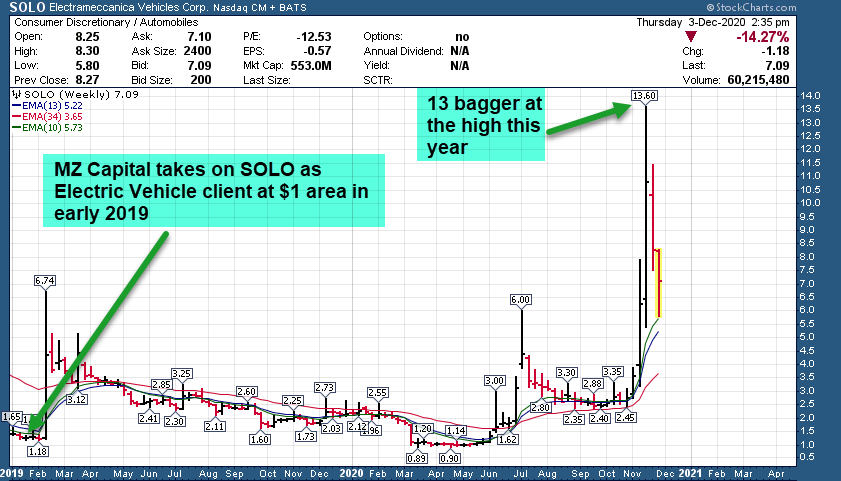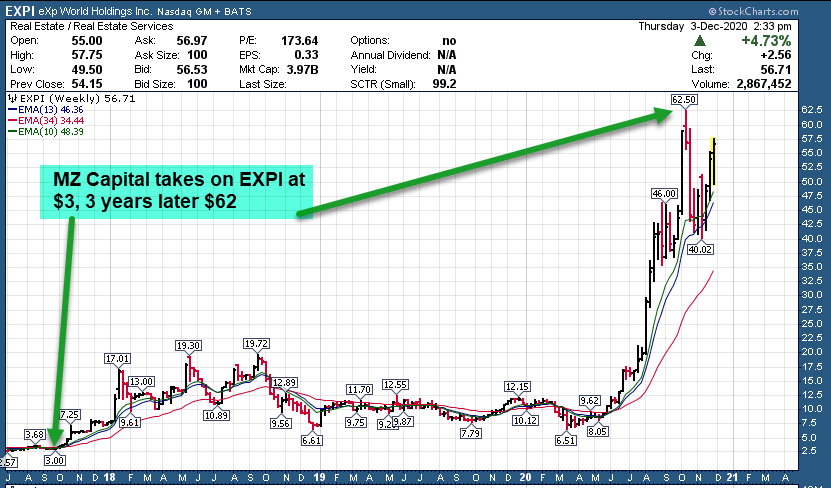 MZ Capital actually worked with MEEC in 2014-2017 during their aggressive revenue ramp (reaching a peak of $32M); MEEC then encountered fairly widespread industry adoption of their patented technology (the equipment, specific formulations and the process). MEEC felt all of these Utilities were infringing on their patents, essentially bullying the smaller company. With no way to enforce their patented position, MEEC conducted significant IP work over the last few years and retained Caldwell Cassidy & Curry (recently won major 500 million dollar IP suits against Apple and Microsoft) to help them recognize the value of their patents on a success basis.
2021 Earnings projections at 11 million, and 22 million on 2022
The forward PE Ratio at 4x 2021 and less than 2x 2022 earnings estimates per Management based on assumed patent settlements and 5 year plus contracts being signed by Utilities that are all already using their technology illegally.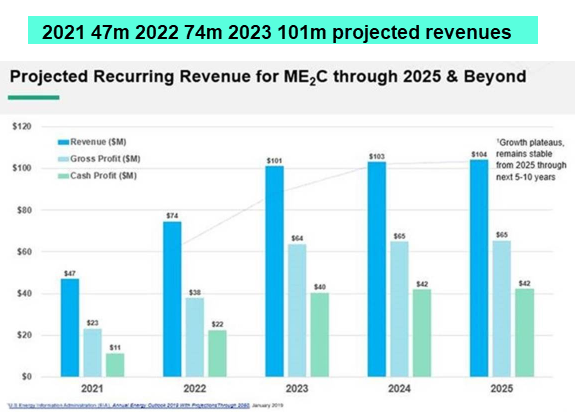 Having recently settled with the first two major utilities in the market for their IP, they are moving quickly to aggressively defend their IP with hundreds of other infringing parties, a several hundred million dollar opportunity. Ultimately, this will result in the Company receiving license fees for the use of their technology or additional long-term supply contracts. That said, the company anticipates a significant revenue ramp over the next few years with leverage to increase margin as they grow
"We believe that organic growth and significant supply revenue can be obtained focused on 200+ infringing boilers in operation nationwide.-  CEO Richard Macpherson, Press Release 12/1/20
Clean Energy play with patent estate  currently being monetized, two recent settlements with two of the top Coal Fired Power Plant utilities in the country just announced, many more likely to follow.

They hired one of the top IP (Patent) law firms in the country this past summer and already two major agreements completed.

This firm Caldwell Cassidy & Curry, recently won 500 million dollar cases against both Microsoft and Apple, and rarely take on cases unless they feel they have a very strong case.

They are incentivized to get settlements and agreements completed, we should see several follow near term.
Cases being settled with two of the top Utilities in last few months should open floodgates to multiple agreements:
In July 2020, ME2C entered into a multi-year, fleetwide license and supply




agreement with one of the largest defendants and a long-term customer,




Vistra Corp. With a commercial agreement reached, the customer has been




dismissed from the lawsuit.




• In November 2020, ME2C and American Electric Power (AEP), a defendant




and major U.S. power producer, entered into an agreement providing AEP a




non-exclusive license to certain ME2C patents for use in connection with




AEP's coal-fired power plants. The agreement includes AEP's dismissal from




the lawsuit and their dismissal of the IPR filing.

Dec 1 2020 (This week) announced another major settlement with major Utilities


• Caldwell Cassady & Curry P.C. are actively defending our patent claims




across the United States fleet, covering hundreds of coal-fired boilers, which




amount to 44% of the coal-fired fleet, dependent on our patented




process in their current operations.
The company does mercury control for coal-fired power plants throughout North America. Alternative mercury control solutions require a high amount of material that make controlling mercury quite expensive and inefficient. Initially developed by ME2C's own Chief Technology Officer at the EERC (preeminent coal research institute out of North Dakota) and vetted by the DOE's NETL in early 2000s, the Company quickly recognized the potential, commercialized the technology and acquired the patents outright. Today, the company not only supplies a piece of equipment that is attached to the boiler, provides a patented, two-part approach to mercury capture.  The sorbent application at both the front and back end of the boiler is highly efficient, uses less materials, and retains the quality of the coal's fly-ash, a profitable by-product of mercury emissions capture that many other technologies degrade.  Leveraging decades of industry expertise to analyze the specific type of coal, ME2C's sorbent blends are tunable to address specific coal types and plant environments. ME2C operates as a business partner with their customers with whom they have gained long-term supply contracts.  ME2C's holistic approach to mercury capture is far different than raw material suppliers. ME2C secures long term supply agreements with a recurring aspect of annual business. ME2C's technologies are ESG-focused as they require less material to efficiently reduce a higher amount of mercury from being emitted than other technologies.
Plants see significant cost savings from improved plant operations, which ME2C actively supports, and less deterioration of plant equipment. The coal's fly-ash is sold as a commodity and used in current research for the development of rare earth elements (REEs), which are widely used in technology, defense, construction, and many other industries.
ME2C is confident that up to 200 Boiler units are using our patented, SEA® technologies. Since we had 3 major Utilities all settle and set up revenue agreements in the past 20 days, I expect the rest of them to follow in line like Dominoes. 
• These infringing units would be seriously challenged to remain within federal and state mercury emissions
regulations without the use of our patented SEA® process.
• There is no other technology available today that is more effective than the SEA® process in terms
of emissions capture, cost savings, or achieving overall plant improvements
• States must adhere to 2"best system emissions reduction" by Spring 2022
I will be speaking with the CEO this afternoon at 1pm EST and will post any additional insight later this afternoon
Buy ranges max 60 cents adding to 42-45 cents on future dips if they happen
Target is $1.20 possibly in 1st quarter 2021 based on expected settlements coming in fast with Utilities and 2.25 possible in 12-18 months