12 Dec

TPS Report BIVI

BIVI near $10

Target in 3-12 months $25-$50, 24 months 50-$100, and 36 months as high as 200 possible.  This may end up as one of my best investing ideas ever if I am right and BIVI executes on what looks like a huge opportunity with minimal downside and massive upside.- Dave

Investor Slide Deck  (PDF) (Download to read and Review)

I spoke with Terren Peizer, CEO and Founder (Also of OTRK)  directly and he said "My plan is to grow this into one of the most valuable pharmaceutical companies in the world, and you can quote me on that"… "This could be north of a 6 Billion market cap opportunity just for the US alone"
A potential new standard of care (SOC) for Refractory Ascites of the Liver for liver patients awaiting a transplant. Once you have this liver condition, you have a 50% chance of dying within a year.

BIVI is aiming to use Terlipressin with their patent pending low dosage pre-filled syringe combined with a continuous infusion pump, which has been shown to reverse this condition in 79% of patients in a Phase 2 trial.

It requires no refrigeration, easy to store and transport, and outside of a hospital environment.
Terren Peizer is a very successful serial Entreprenuer who we know from CATS/OTRK fame which went from 15 to 83 this year and we sold for 140% gains on the final 1/2 at TPS (Sold a little early, it happens).  Terren also was Chairman of Cray Research bought for a song and sold it for 1.4 Billion years later in 2018 to Hewlett Packard.  He has been behind numerous winning investments for his shareholders, including Danaher. Terren has been involved in 160b of market value creation (Danaher, Cray, OTRK and more), and he owns 85% of the BIVI shares, leaving little float for trading at this time anyways.
Watch this 13 minute video first, very important. Then read my report:
---
A Tipping Point in the standard of care (currently Paracentesis or the removal of fluid) that could dramatically alter patient lifelines and dramatically improve the treatment for Refractory Ascites due to the cirhossis of the Liver. The compound  Terlipressin has been available for decades outside the US (it is not available in the US or Japan). It is approved in more than 40 countries for treating two deadly conditions related to ascites called bleeding esophageal varices (BEV) and hepatorenal syndrome (HRS) in hospitals. The drug has been studied extensively overseas and its efficacy and safety profiles in BEV and HRS have been elucidated by hundreds of scientific publications. Hence, the pathway to approval in Phase 2b and 3 is likely shorter than usual and with minimal risk.
---
143 million market cap, 18 million cash

Recent IPO with 1.8M shares issued at $10 per share in the offering in late September

11.8 Million shares of the 14.1 million outstanding are owned by Terren Peizer, Founder and CEO

Another 500,000 scattered with Board, private shareholders, options and stock grants,  etc

Only about 2.3 million shares in the public trading float
---
Notes from my call with Terren Peizer, CEO/Founder:
"The best deal I've ever done from a risk-reward standpoint" "This is essentially de-risked with my own money, and once I get to that point, then I bring it public." "Every single study has shown efficacy and it reversed the refractory Ascites condition."

It is a 675 million addressable market just in the US alone. The alternative is death. Feels BIVI can get 2/3 penetration of the market in the US as an Orphan Drug which has 7 years of protection.

The estimated cost of distribution is only about $6 million, he would hire roughly 30 sales reps to market to 3000 liver specialists.  Does not need to partner and give up equity. Gross Margins could be as high as 98%.  Possibly a projected total of 420m EBIDTA number (Cash Flow), with a 15x multiple… that's potentially 6 Billion of market cap for shareholders just for the US opportunity. Very little risk, very big reward.

BIVI would then go into Japan  for approval where the Standard of Care is still paracentesis, and Terlipressin is also not approved.  Worldwide 10 year exclusivity on patent pending Pre-filled syringe and for up to 20 years.  The pre dosed syringe has a shelf life over 1 year, no refrigeration required, a perfectly measured dose, and can be administered at home. The syringe pops into a pouch ready to go. Sterile, accurate, and with more efficacy.

Would be first worldwide company to sponsor this type of delivery of Terlipressin.  Actually had one patient go off the liver transplant list. 

There are more developments in the works that he can't comment on publicly just now but we may learn more in early 2021.
Why am I excited about this Tipping Point Stock?  I think we could have as much as a 20 bagger on our hands here, and let me explain why.
Management:  Multiple successes of the CEO and Founder Terren Peizer during his Entrepreneurial career along with absolute top shelf Board members. Always bet on the top asset allocaters, they know where and how to best allocate capital for the best risk-reward returns for early shareholders.
Share Structure: Very tight share structure, low float, no institutions on board yet (When they do they drive the price through the roof), a recipe for explosion on developments, The CEO holds 85% of shares tightly.
Only 14.3 Million shares after the IPO. Terren likes to control most of the equity in his businesses, including OTRK. He is not known to dilute shares, prefers a tight share structure and only issuing shares if he sees major capital allocation opportunities.   There are only 2.3 Million shares in the float and they will slowly get soaked up, which means with news and developments and increasing investor awareness, this stock has the potential to explode higher due to lack of supply of floating shares and high demand.
Valuation:  143 million at $10 a share, the IPO price, a fraction of the potential market valuation
Based on an interview with Red Chip Editor  Dave Gentry and Terren Peizer in October, the valuation relative to market opportunity appears miniscule.
Dave pointed out that the Phase 2 trial that ended in 2019 had a 79% response rate. He also said the 2b  will be relatively quick and provide a 20 year patent protection for the pre-mixed Syringe methodology.
Terren believes the US alone opportunity is about 670 million for this Refractory Ascites Liver Cirrhosis side effect remedy. He thinks due to this dramatic potential to change the out of date standard of care, that he can capture 2/3 of this US market and with Orphan Drug Status.  He also believes his margins could run near 98% and his cash flow could head towards 400 million per year. If we take a multiple of 10x EBITDA that would put a 4 Billion valuation on a 143 million market cap further out.  That's about a 28 bagger right there.
Intellectual Property:  Pre-Dosed Syringe delivery of a known Liver treatment therapeutic (Novel BIV201)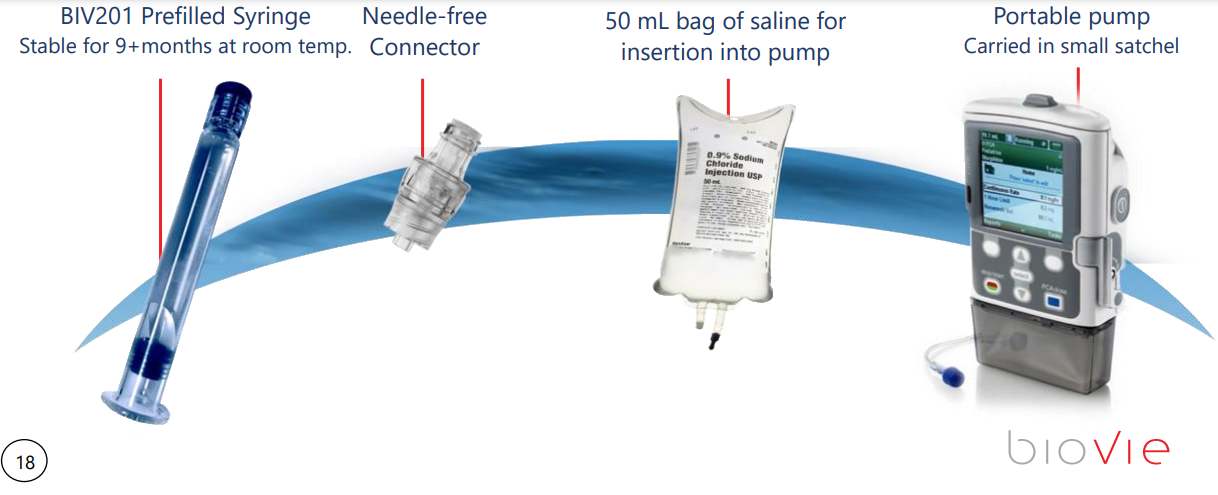 The problem to solve: Ascites due to Liver Cirrhosis , poor standard of care, BIVI201 solves this
The current Standard of Care is a Paracentesis procedure (Needle into stomach removing fluid) for Refractory Ascites of the Liver.

This is a temporary fix, it removes fluid from the Abdomen (Ascites), but comes back due to cirrhosis of the liver.

This is done in the hospital and a high expense, and its not reversing the disease. This is just a crude removal of the fluid in the abdomen, then the fluid comes back quickly.

Patient has to to repeat this every 1-2 weeks ahead of a liver transplant. There is then a 50% chance of dying within 12 months once you've started, because Kidneys begin to fail.

The BIVI solution gives a longer term bridge until a liver transplant can be completed, saving lives, saving money, improving the efficacy and accuracy of dosing, and allowing in home treatment. This is a Tipping Point change, much like the move to Glucose Monitoring devices for Diabetics.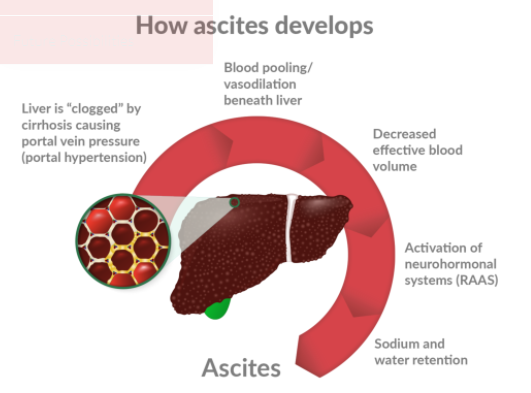 Currently the Terlipressin formula is approved and used in 40 countries for this indication.
BIVI will use the same formula which they have licensed for the US and Japan rights, and change the method of delivery so that no mixing is needed by the patient of the powder and liquid, easy consistent dosing via the continuous pump, and the syringe is pre-dosed and ready to go for the patient.  This is called the Novel BIV201 Delivery System. This means no hospital stays, less costs, and no damage to kidneys. This gives the Liver patient a longer bridge of survival while they wait for a transplant… a complete TIPPING POINT change in standard of care.
---
Insiders/Board Members: Insider buying after the IPO by one of the worlds top Biotech entrepreneurs and investors, Steve Gorlin.
After the IPO, Mr. Gorlin quickly bought stock to the tune of 50,000 shares from $9 to $10 in the open market following the pullback Post IPO per filings in the open market.  ($500,000).
Steve Gorlin is on the board, and he has been involved in multiple major successes in Biotech.  
Mr. Gorlin has founded or co-founded or seeded many biotechnology and pharmaceutical companies over the past forty-five years, including Hycor Biomedical, Inc. (acquired by Agilent), Theragenics Corporation, Medicis Pharmaceutical Corporation (sold to Valeant for approximately $2.6 billion), EntreMed, Inc., MRI Interventions (MRIC), DARA BioSciences, Inc., MiMedx, Medivation, Inc., sold to Pfizer for $14 billion and Conkwest which became NantKwest. Mr. Gorlin served for many years on the Business Advisory Council to the Johns Hopkins School of Medicine and on The Johns Hopkins BioMedical Engineering Advisory Board. He also served on the Board of the Andrews Institute. He is currently a member of the Research Institute Advisory Committee (RIAC) of Massachusetts General Hospital. He started The Touch Foundation, a nonprofit organization for the blind and was a principal financial contributor to the founding of Camp Kudzu for diabetic children.
This is perhaps the most impressive group of Directors/Board Members I have seen in a small Biotech. See details in the Investors Presentation PDF  link at top of report.
Mr. Cuong Do is also on the Board, he was former Chief Strategy officer of Merck and Currently the Chief Strategy Officer at Samsung overseeing 100 Billion,  and allegedly he brought the idea to Terren, and then helped him acquire the rights for US and Japan.
---
Assets and Pipeline:
BIV201 is being developed for treating refractory ascites patients, who no longer respond to diuretic drugs and required repeated paracentesis procedures (the physical withdrawal of large amounts of ascites fluid from the abdomen with a large-bore needle). Eventually the Company may pursue FDA approvals to market BIV201 for two related conditions due to advanced liver cirrhosis: bleeding esophageal varices (BEV) and hepatorenal syndrome (HRS)
BIV201,  The delivery system method using the Terlipressin compound  is based on an already approved drug used in 40 countries. The  US and Japan have no competitors and none pending and likely not difficult to gain approval especially with the experts on this board and the usage in other countries as standard of care.

A Phase 2b to test the syringe delivery methodology, and  then a Phase 3 are coming up in 2021. The 2b will likely show the Pre-Filled/Dosed Syringe as working correctly, and then the Phase 3 will enroll final patient cohorts to determine that it all works as they have already experienced in the phase 2 studies with a 79% response rate. Since this is an asset that is already safe and used around the world, approval should not be an issue, more of a time constraint.
The Potential is then for this delivery system of Terlipressin to then be expanded around the world with this patent pending Pre-Dosed syringe methodology replacing the current worldwide standard of care for these Liver patients.
Business Plan: (Notes from talk with Terren)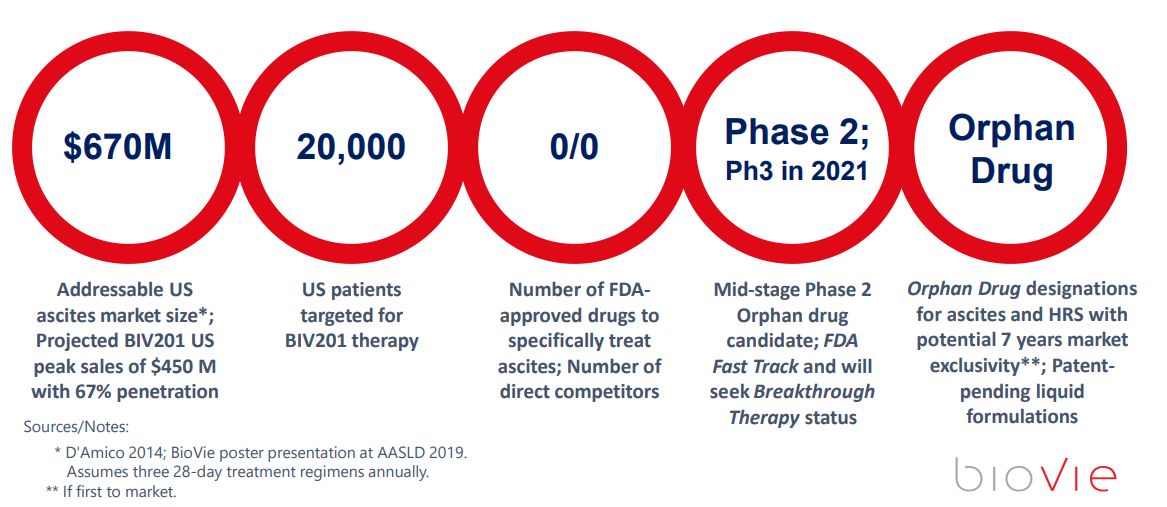 Terlipressin with a low dose continual Infusion pump becomes a new possible standard of care.

Phase 2b is to show the pump works etc, Phase 3 to complete the full studies ahead of NDA with FDA.

20 patients in Phase 2b/3 (pivotal) initially, 2b should start soon and then a "Pivotal" Phase 3 in late spring or summer which could go relatively quickly.

Filing NDA Goal in early 2022 (New Drug Application)
Catalysts:
From talking to Terren on the phone, he said there is a lot more news to come and that his business model is well beyond just this one Liver treatment indication. He hinted that we should learn a lot more in early 2021 and that "the stock will not likely be this low that much longer".

I spoke with one of the underwriters involved with the NASDAQ Up Listing and the IPO syndicate, and though purely speculating,  he said he would not be surprised if Terren folds in some of his private biotech related pipeline assets into BIVI, thus creating more potential value. Perhaps that would involve NeurMedix, Inc., a biotechnology company with a focus on inflammatory, neurological and neuro-degenerative diseases which Terren controls. They are working on Migraines, Parkinsons, Alzheimers, ALS, Encephalitis. They postponed a 2018 IPO offering a few years ago, and folding this in perhaps may make sense if they can do some type of arms length transaction that is ok with regulators, or perhaps acquire assets and fold them in for fair market value?

Terren also hinted that although there are very few shares in the float, and he controls 85% of them right now, that it doesn't mean we wont see bigger players involved at some point.

Initiation of Phase 2b Trial should spur the stock, this could come over the next 1-3 months at anytime.

Terren also again said he plans to try to grow this into one of the largest pharmaceutical market caps in the business, and with his business track record I would love to be on board early for that opportunity.
Investing Advice:
We can buy this up to $12 the Post IPO high and likely have a possible double in the first half of 2021
Any dips back to 9-10 for any reason we will likely advise to add 
Target 25 in 2021 on the low end, as high as 50 or more depending on activity, trial initiations, acquisitions etc.