23 Jul

TippingPointStocks.Com Research Report RESAAS

The report below was published on July 23rd to TPS members only behind a paywall at Tippingpointstocks.com.  This is being shared with a few others outside of TPS as well.- Dave Banister, Chief Strategist and Founder. 

RESAAS-  $1.00 cents US at time of Report
70 Million Shares Outstanding
70 Million market cap at $1 per share US
Projecting 108-120 million in annualized revenue in 2022
12-18 month target $3 to $4 per share US based on 3x-4x Price to Revenue valuation model and growth rates expected. Should be hearing very soon on enterprise customers, subscription model revenues, and expansion into commercial real estate to add to residential. Good time to get invested before marketing of the story by MZ Group and others begins – Dave
RESAAS Services Inc. develops a cloud-based technology platform for the real estate industry. The company offers a suite of tools, which integrate with the platform, including a global referral network, lead generation engine, listing management, client engagement modules, customer relationship management tools, analytics, file sharing, payment system, and advertising engine. It serves multiple listing services (MLSs), franchises, and real estate brokerage and real estate agents in the real estate industry. The company was incorporated in 2009 and is based in Vancouver, Canada.
The Company Stock is listed in both Canada and the United States. TSX-V: RSS   OTCQB: RSASF
In the early stages of up listing to the NASDAQ
Website: https://corporate.resaas.com/
The worlds largest real estate communication and soon payment/referral fee platform for agents with 500,000 agents in North America registered on their online platform.
RESAAS provides technology for major real estate organizations to elevate their performance.
Their award-winning technology platform enables real estate brokerages, franchises and MLS's to bring real-time communication, transactions and data to their agents on a global basis.
RESAAS has over 500,000 agents using its technology in 160 countries and growing.
Their RESAAS "Pay" is soon to be fully launched and capable of global money transfer amongst agents and more after 3 years of development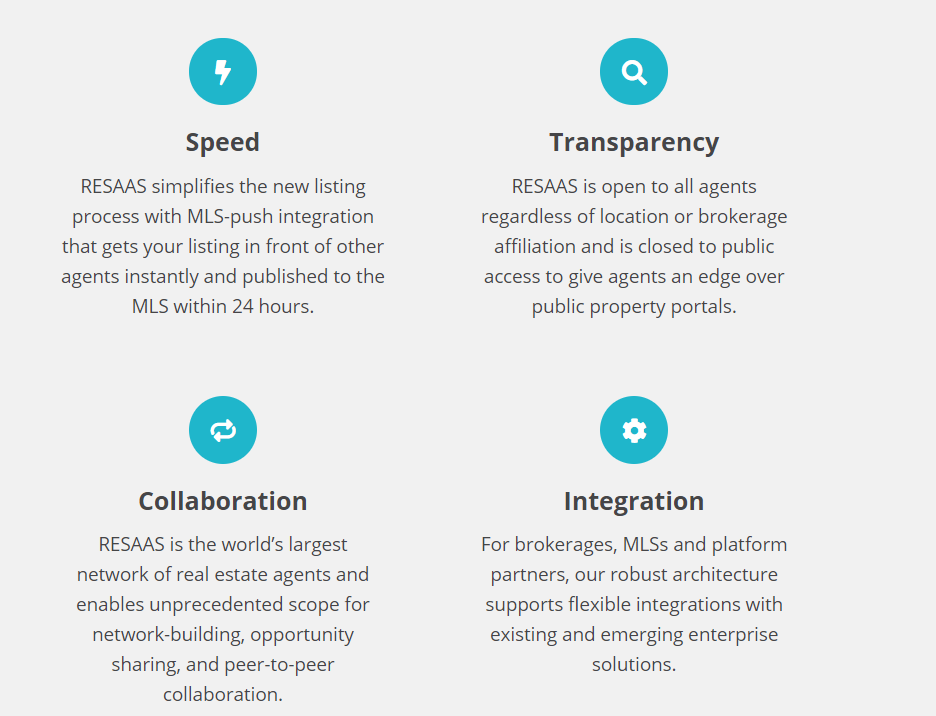 ---
Tipping Point: This is similar in terms of timing like my late 2017 write up of EXP a few years back at $6 (16 bagger at the highs since then)  when they had 6,000 agents as sales people and now are at 50,000 agents and eXp is one of the world's fastest-growing real estate brokerages and now also in 14 countries around the world. RESAAS is at a Tipping Point of investor recognition near term as they begin to communicate to investors large and small how their platform works and subscription model revenue and other avenues of revenue that are about to explode.
RESAAS was brought to the attention of MZ Group (Early on GBOX, HYRE, MEEC, SOLO and numerous other multi-baggers over the last few years) by the Vice Chairman of the board of EXP,  Randall Miles, also a Private Equity principal with great success.  Randall is from Wall Street, the former COO Cantor Fitzgerald, also ran Interactive Brokers in Seattle, He is a strong asset with very good capital markets abilities. He was so enamored by the potential of RESAAS that he connected them with MZ Group earlier this spring and MZ agreed to take RESAAS on as a client. Randall is working to help them get the up listing to the US NASDAQ exchange and in front of larger investor groups.
This is still very early stages similar to Green Box last August when MZ group informed me about it, it was 13 cents (Pre split which would be 78 cents equivalent vs $10 now) . I hesitated to write it up for TPS Members since it was trading pretty thin and they had work to do, and now I'm kicking myself obviously for waiting.  RESAAS is also now in the same type of position today where retail and also large investors are totally unaware of what is under the hood here, and more importantly what is budding  and about to spring into a fast growing garden of revenues and likely shareholder value.  EXP was also a $2 stock when MZ took them on and at one point nearly hit $100 under 4 years later.
I debated over last few months since April when I became aware of the opportunity about writing this up for TPS mostly because I want to make sure we get some trading volume and news flow.  I have waited about 3 months but now it seems like I'm running out of time before we start to get some guidance and publicity on what their plans are, and importantly their current revenue run rate which looks about to explode. Before that happens, we want this Tipping Point in the business to work in our favor and invest before the crowd becomes aware.
Business Notes:
Much of the below notes are from three different few conversations with CEO Tom Rossiter over last few months.
Balance Sheet: 0 Debt, tightly held stock by insiders and loyal shareholders.  Currently 70 million shares outstanding and trading in Canada and therefore not yet listed on a major US exchange, however trades as RSASF on the OTC. However, they are in the process of a NASDAQ listing. This could take many more months so be advised.
General Business plan: List on US Stock Exchange, Pivot the business to add Commercial Real Estate in addition to the residential real estate platform, make some acquisitions, later on expand into other industries and markets with their technology and platform. Roll out RESAAS pay which has been in development for several years.
This is a Platform for sure, somewhat of an overused word, but the CEO Tom Rossiter believes they have one that is valid.  The Value of a platform is greater than any of its single constituents and 500,000 agents are using RESAAS… the value of the platform, data, dependency etc grows the more it is utilized by these agents. Although somewhat hard to model but that is the growth engine potential.

RESAAS is obviously a leader in the real estate sector now, but the platform is built for any industry that needs a centralized communications hub.  The data they have collected over the years from real estate transactions, sales of homes that are not even MLS listed due to their platform of agents, referral fees, and communications amongst agents makes the platform more and more valuable to those agents.
RESAS provides the technology to licensed agents to communicate through a platform that is proprietary, not like Zillow etc.  This has become a honeypot of unique up to date valuable data and keeps these agents coming back. Lack of trust in the real estate industry is an issue and RESAAS has worked very hard at being the friendly older brother if you will… to build a level of trust.  Agents from all brokerages can collaborate and share together with RESAAS… it was run a long time for free, to get people to try it out, proof of concept if you will.
This proof of concept has happened, now RESAAS is turning on the revenue spigot with their agent subscription model which is just now underway and with very strong early penetration.   The company believes on the LOW END they can achieve 15% of 500,000 agents signing up on the subscription model platform.  Some internally think based on the early sign ups that we could approach 25% to 30% per my latest update from management on July 8th.
So far as of early July, the Agent subscribers are taking 80% of subscription in the Ultimate subscription at $99.99 per month and 20% at $49.99 per month.
If we take 20% of 500,000 agents signing on and use a model of 80/20 on the 99/49 options… we come up with annualized revenue approaching 108 million!!
With a current market cap of 70 million US, we are trading at about less than .7x Price to potential Sales ratio.  A fair price to sales ratio should be 2-4x in my opinion putting a fair value of about $3 plus per share on this $1 stock.  This does NOT take into account any other revenue models that they also have, as this subscription model for the Agents is only the baseline beginning.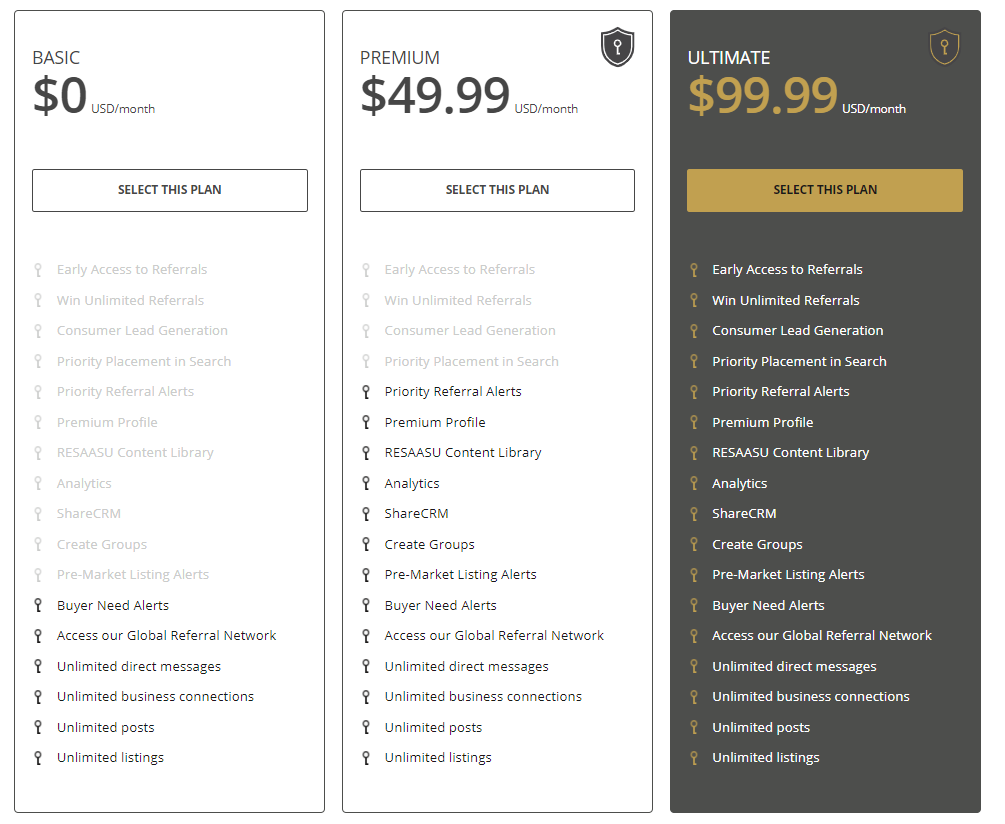 Preferred Partners Program:  The company is also working at establishing preferred partners that are all related to real estate transactions and monetizing these relationships with agents as well. Through a formalized application process, RESAAS will select vendors to partner with and endorse as part of the RESAAS Approved Supplier Program. The chosen partners will receive advertising rights through the RESAAS AdSaaS™ advertising engine to enable advanced agent targeting. RESAAS Agents selecting suppliers from the RESAAS Approved Supplier Program will gain exclusive discounts to those suppliers outside of available market offerings.
Fintech Payment Platform "RESAAS PAY": 
CEO Rossiter is very excited about the soon to be launched Fintech Payment system, called RESAAS Pay. They built this over the last 3 years out out of demand, due to agent referrals initially. The average price of a home from a resaas referral is $800,000! The average price in the US is 250-270k.  This means lots of referrals into the luxury markets, 2nd home markets etc.  Referral fee is 30% typically of the commision.
Math on this Fintech…. is 3% gross buy side or sell side….  1% roughly on each fee… 800,000 sale  x 1% is $8,000 referral fee to an agent on the platform. With RESAAS Pay they charge 5.5% of amount of money they move on the referral…  or $440 on an average transaction which would go direct to RESAAS.  Low end of agent referrals they have tracked has been  1100 to 1200 a month with the high end record being 4,200 a month.  2000 a month in referrals is typical.  This is a fairly new program, and RESAAS has spent 18 months building this out as you must pass through regulators etc, banking rules and tons of development and learning. This can be applied in 45 currencies globally and as you can see has very large potential, also well beyond just referral fees.
For example with RESAAS Pay there are several other areas in a  real estate transaction where money changes hands, this can be applied to these use cases as well.  When a house closes, the escrow company sends certified checks…. 12-20 checks per closing at $35 per check fees, starts to add up. This being 2021 this should now change. A much more efficient method being set up by RESAAS Pay… brings their cost  down and deliverability up.  Its a smart contract block chain security system, with instant and secure pay etc. Over time this RESAAS pay can pay a very large percentage of ongoing revenue to RESAAS.
Commercial Real Estate expansion:  
Getting ready to go to market now, much higher revenue potential vs residential real estate model only.
Platform for other industries:  RESAAS is  built to do bolt on to other industries likely in 2022.  This is part of roadmap as they will be able to leverage a lot of existing learning from the real estate platform. Industries that are similar in structure to real estate world… insurance, lending are obvious places to begin.
 Global Enterprise customers: 
I believe we will be hearing about new larger customers coming on board soon which will grow the numbers of entities/agents on the platform materially.
Summary:
Strong platform with very current and fast adoption of their Subscription model targeting 108 million by my estimates in 2022 revenues not counting any additional revenue streams
RESAAS Pay ready to launch initially as referral fee payment across agent transactions and with net fees to RESAAS
Expansion into Commercial Real Estate sector could very shortly  be announced which has much larger revenue opportunities
Up List to NASDAQ US exchange expected by end of 2021 and being currently worked on
20% Insider ownership of shares
Small Market cap of 70 million relative to outsized revenue potential and price to sale ratio is well below 1 to 1, should be 3-4x in time.
Future platform for other industries like Insurance, Loans etc
Valuation severely discounted and could see a large number of Agents buying the stock once up listed in the US per CEO
Expansion into more Global Enterprise customers possible
Fair Value in 12-18 months potentiallly at $3 to $4 per share for 200-300% gains potential
Advice: 11 week base is setting up for next leg with catalysts and investor recognition, see chart.
Work your way in up to $1.25 per share if possible and we can evaluate from there.  The 12-18 month target is $3 to $4 per share. Use limit buy orders scattered around.
Reminder that all Research and Updates and ongoing communications are governed by our Terms of Service Agreement