03 Oct

Free swing trade setup EOLS

If you are not yet an "Opted In" Member of StockReversals.com , sign up today to get our IPO, Swing Trade and Market Trend updates.
---
Our premium services available to you
We combine market timing to an extent using our Elliott wave and behavioral pattern system for the SP 500 roadmap, along with fundamentals and technicals to produce winning swing trade ideas.
We highlight an example for the stock Evolus (EOLS)/ This stock is quite oversold coming into the end of the September quarter and we told our Members to look for a washout low in the 16's perhaps and then a rebound upwards starting in October 2018.  We believe institutions will start loading the shares for the long haul.
The company has all top management direct from Allergan and are moving towards marketing and approvals of a Botox/Juvederm alternative.  A short term target of $24 plus is likely.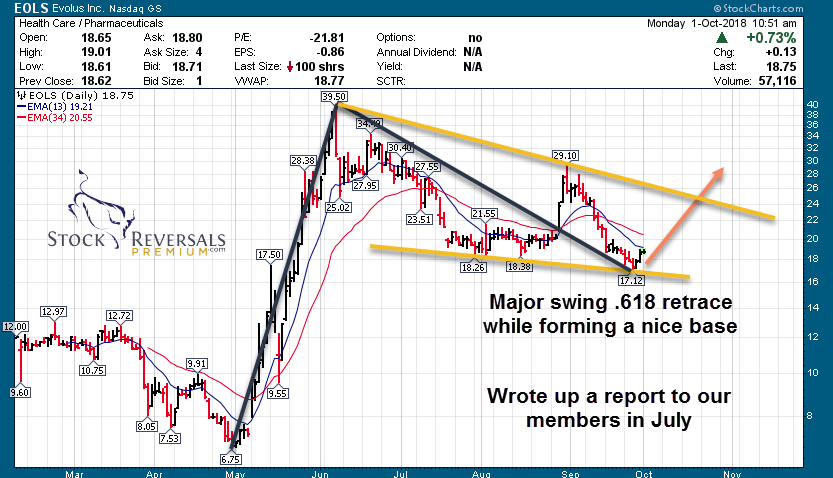 The key to any investment process is simplicity and patience.
Please consider opting in for our weekly free report highlighting major market macro analysis on the SP500, Gold, and Biotech sectors.
OR you can make the leap and join any of our 2 premium services, giving you swing trade ideas backed by fundamental analysis of the companies we cover and our timing models.
We have outperformed the SP 500 Index well over 12 to 1 since 9/1/13 inception!!
---
Let us do the heavy lifting and the research for you! Join SRP as a Member today with a 30% coupon!
While we will continue to find 10-15 quality stock setups in our always free weekly report, if you want a market smashing swing trade alerts and stock market trend advisory service with a 70% profitability success rate since 2013 to help with your trading,  consider signing up for our premium service here SRP Premium Service
70% success rate since September 2013 inception at our Premium Service!
At our Stock Reversals Swing Trade Premium service we send an SMS text, E-mail, and SRP Members only Blog Post with details on the company, entry and exit advice,  stop loss parameters,  plus SMS text and E-mail alerts to sell, morning reports every day covering all positions pre-market, ongoing strategy and trading advice, market forecast models updated daily,  and 24/5 access to our Chief Strategist.
30% Coupon Code for Monthly, Quarterly or Annual Membership, good for 24 hours only!
PSFFT5NWT1  Coupon Code- Expires in 24 hours
Membership is only $99 per month, $249 per quarter  or $749 Annually
30% off Monthly, Quarterly, or Annual Membership using Coupon Code: PSFFT5NWT1  Makes it $69 monthly, $149 quarterly, or $524 Annually. Enter Coupon Code in Checkout area in Coupon Field.