29 Nov

Market beating opportunities from our weekly reports – Part 1

If you are not yet an "Opted In" Member of StockReversals.com , sign up today to get our IPO, Swing Trade and Market Trend updates.
---
What makes the team at StockReversals unique – Base Patterns and Market Maps
In this multi part series, we will give you a few examples of how we use a combination of behavioral patterns combined with fundamentals to project swing trade moves in our favor in advance.
MARKET MAPS:  By first determining whether the market has upside or downside pressure, we are able to use our proprietary analysis tools to help investors find the best winning opportunities.
We combine market timing to an extent using our Elliott Wave based recipe which has some added twits others do not incorporate for our SP 500 road map.
We are also very tuned into fundamentals and technical's on each stock we consider in order  to produce winning swing trade ideas.
Here is a November 28th Pre-Market SP 500 chart model, calling for a double bottom and 2744 possible. 
Given we were turning bullish ,we issued two swing trade alerts prior to this forecast in the prior 2 days. 
That same day the market rallied exactly to 2744! (Before and After Charts)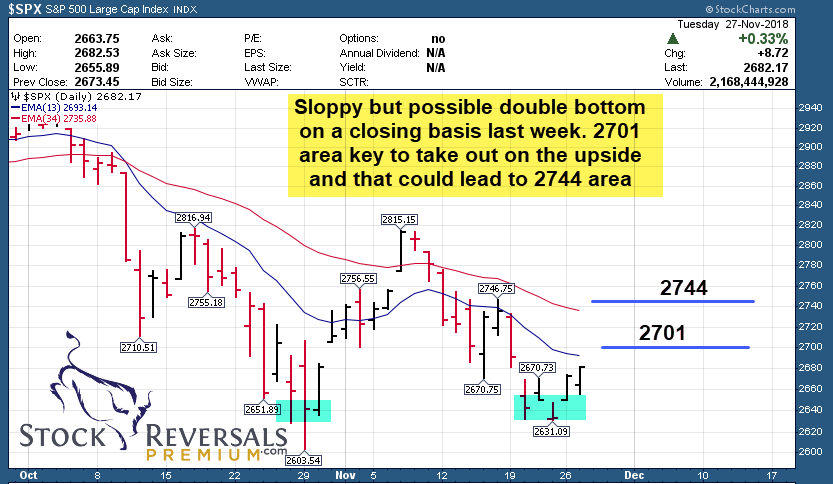 Here is what happened: 2744 hit on nose, ahead of this move up we alerted two new swing trades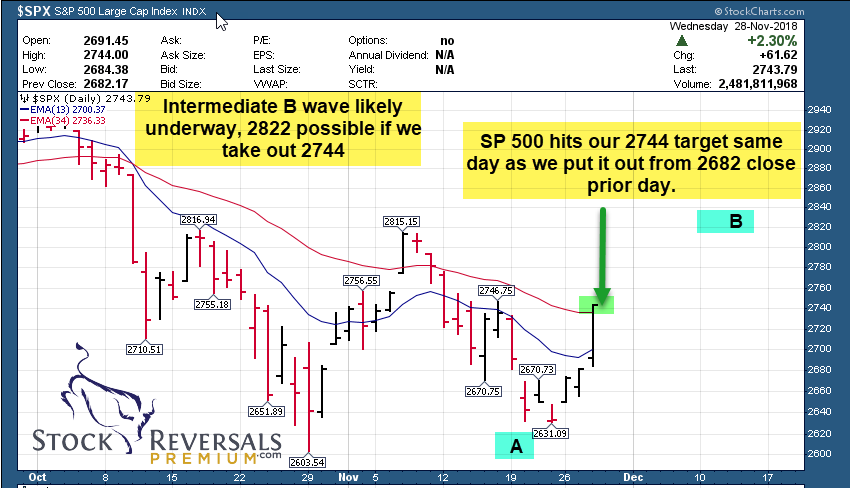 ---
Swing Trades: Here's an example from 8/23:
Mentioned in our free 8/20 weekend report with 14 other ideas, we pointed out an 8 day base pattern.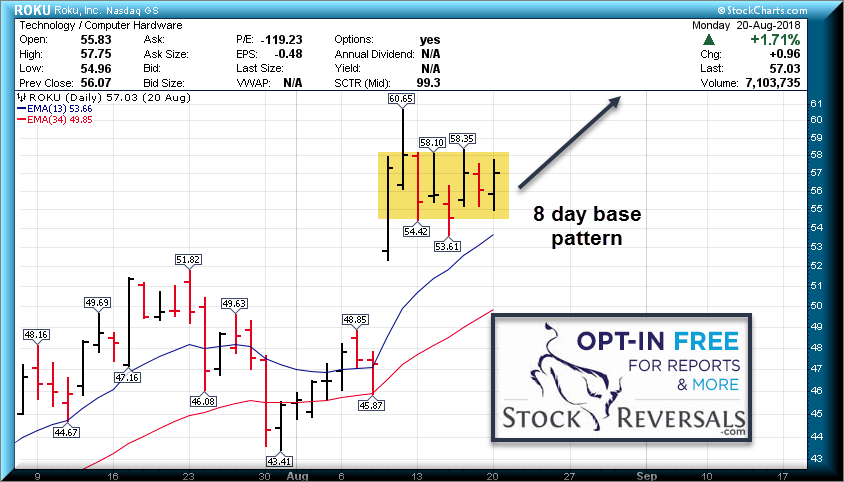 In addition, we alerted this trade at Stock Reversals Premium on 8/20, taking 8% Gains on 1/2 the Position less than 4 days later for nice profits.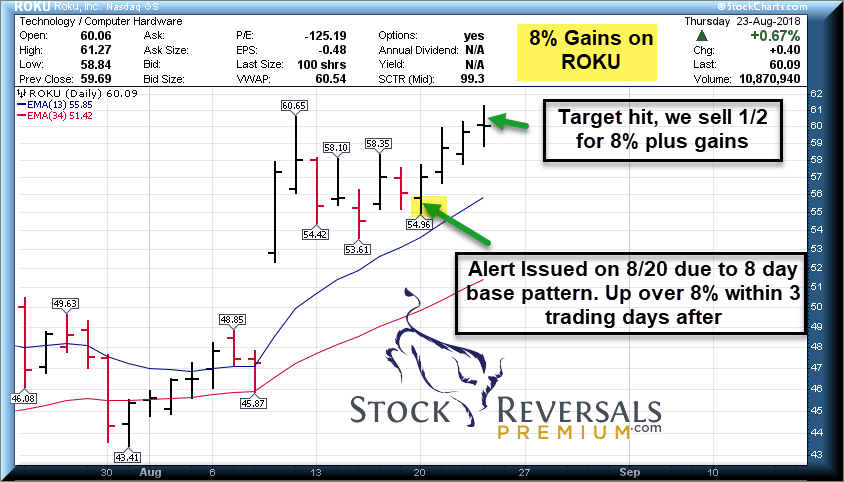 3 days after that, we alerted a final sell, taking 13% Gains on the Final 1/2 Position.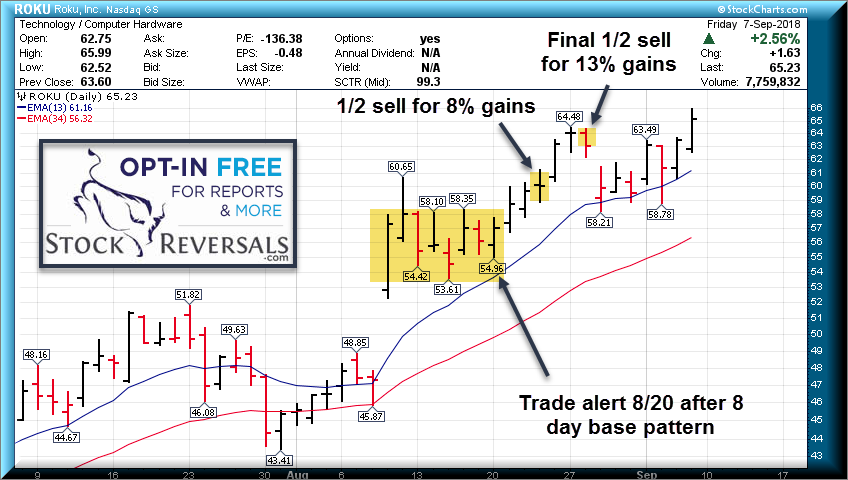 This also worked with 3X ETF TNA, based on our market maps for a 16% gain!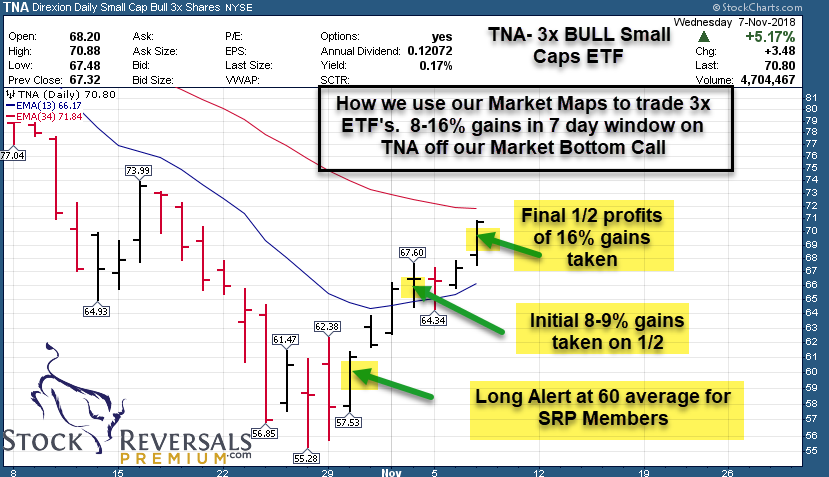 ---
While we will continue to find 10-15 quality stock setups in our always free weekly report, if you want a market beating swing trade alerts service with a 70% success rate since 2013 to help with your trading,  consider signing up for our premium service here SRP Premium Service
70% success rate since September 2013 inception at our Premium Service!
At our Stock Reversals Swing Trade Premium service we send an SMS text, E-mail, and SRP Members only Blog Post with details on the company, entry and exit advice,  stop loss parameters,  plus SMS text and E-mail alerts to sell, morning reports every day covering all positions pre-market, ongoing strategy and trading advice, market forecast models updated daily,  and 24/5 access to our Chief Strategist.
Read more on that service here SRP Premium Service
Membership is only $99 per month, $249 per quarter  or $749 Annually
30% off Monthly, Quarterly, or Annual Membership using Coupon Code: PSFFT5NWT1  Makes it $69 monthly, $149 quarterly, or $524 Annually. Enter Coupon Code in Checkout area in Coupon Field.