22 Mar

SP 500 Update- Wave 4 continues

Keep calm and drink coffee. This is part of an ABC Intermediate Wave 4 correction. It works off extremes in sentiment hit at 2401 the top  of Intermediate Wave 3.
---
Don't freak out, its a normal pattern…   Make sure you OPT IN FREE to stay up to speed so you are not caught off guard again. Or, join our Swing Trading service and improve your trading results.
Read up at STOCKREVERSALSPREMIUM.COM 
---
Remember that "3rd of a 3rd" forecast we made after the election for a 300 point rally in the SP 500 being possible? Some thought we were on drugs, but we were not. 3rd of 3rds are the most powerful waves in a bull cycle and end with everyone bullish.
We had projected  2406 3 months in advance of the top at 2401, and we did that because its all human behavioral patterns, they never change.  Once we hit 2401, we then updated our members with the chart below on March 3rd showing a likely "Minimum" downside of 2326 on the SP 500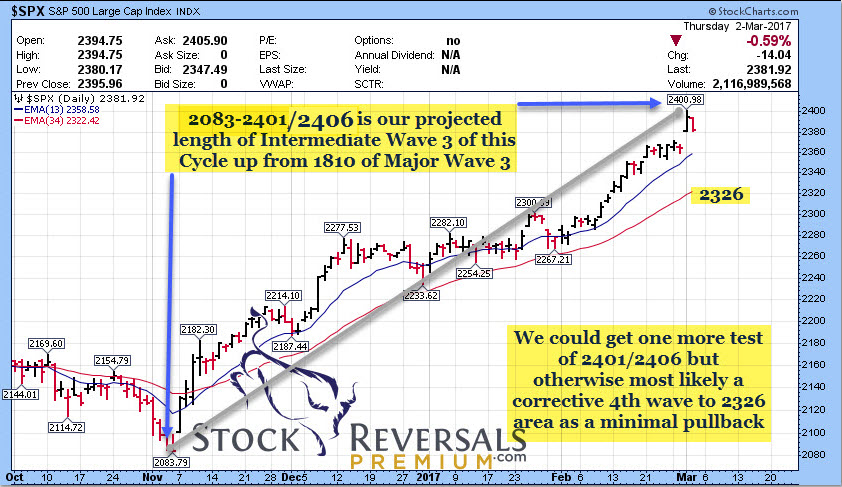 Fast forward to March 22nd and we hit 2343 area, still 17 points above our projection for a minimum drop to 2326. We can still make a case for 2302 and 2280 as well before this correction ends.  Near term a bounce happens because A equals C, where the C wave down from 2390 is the same length at the A wave down from 2401.