29 Apr

Stock Market Forecast and Free Swing Trading Ideas Report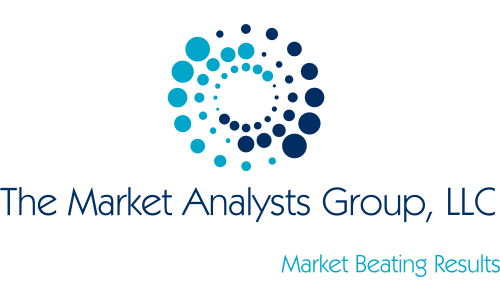 Stockreversals.com  (Opt in for Free reports) 
Stockreversalspremium.com   Swing Trades, Forecasts and More 
 TippingPointStocks.com  Growth Stocks with 100% + upside
Coming Soon:
ES Trading Alert Service (E-Mini Futures Trading with Auto Trade option also)
Post IPO Trading Advisory Service: (Companies public within last 1 week to 12 months with Advice)
---
---
ELLIOTT WAVE MARKET FORECASTS AND FREE STOCK TRADING IDEAS WEEKLY REPORT
AT A CROSSROADS IN MULTIPLE AREAS: SP 500, Biotech,  GOLD
SP 500 Analysis, XBI ETF, GOLD and Swing Trading Candidates:
Last week we projected a drop as low as 2616 on the SP 500 and then a rally would ensue after a dip.  We hit 2612 which is the 200 day moving average line and just below our pivot.  The market had a strong rally up and then hit some resistance.  We would like to see a thrust up out of the downtrend line now to confirm a potential breakout of this 10 week plus Major Wave 4 correction window.
Here is a chart we sent to our members Thursday Morning Pre-Market:
---
Here is our updated views: A clear ABCDE, but now the market must respond with a breakout or this quasi-triangle is at risk of breaking down to 2532 or 2470 areas still.
---
Biotech: XBI ETF
The XBI ETF similarly had a double top and double bottom, and now trying to move out of this downtrend line per the chart  below: We have held off on an LABU 3x BULL Entry for last few weeks as we watch the action.
---
GOLD: Must thrust higher soon: 34 week EMA line current support near 1312.
Sadly did not break out of that 1360 resistance zone as we are at an impasse between the US Dollar and Gold near term. Gold may be forming a classic bullish cup and handle here, but this is the time where it must reverse and head higher. Like SP 500 and XBI, Gold is at a crossroads.
---
Summary:
SP 500, Gold, XBI ETF all at points where we needs to see thrusts to the upside to help get out of these corrective consolidations.  Swing Trading a bit more difficult as rallies have not really been sticking, paper profits can evaporate fast.
At SRP we have kept a 50% cash model the last two weeks more or less after taking nice gains on a few swing trades. The market will dictate our cash models usually which mitigates overall downside risk.  The  volatility of late makes swing trade profits more difficult to come by as they can evaporate overnight. This is also why we focus on fundamentals and not just charts on every Alert.
Bulls are at 48% in Investment Advisor Surveys, climbing a bit from 44% a few weeks ago.
Major Wave 4 has been choppy and deep at times, typical after an "extended" Major Wave 3 (2872 highs)
Risks of more downside present if we do not  thrust out of the downtrend lines.
---

Swing Trading for Profits: CLDR sample for Gains, using the "Reversal Trade"
Join and or read up on what we do at StockReversalsPremium.com
30% Coupon at bottom of Report
10-14% Gains on a Reversal Trade: CLDR
Many SR members E-mail us and ask how we go about profiting with Swing Trades and what methods do we use? Very briefly  we combine fundamental analysis of each  business along with a technical analysis of the chart.  If we feel that both are lined up with strong set ups in each area, then we will consider it as a swing trade alert.  Often we look for stocks that have very recently pulled back hard, perhaps unfairly in our view.  Or, we look for base patterns over several weeks, and or a Post IPO base pattern in a recent new issue.
One good example recently would be CLDR, Cloudera.  This company reported earnings that were strong, but the outlook was soft going forward. The stock got hammered from $23 area to the low $13's.  We read the conference call transcripts, a few analyst reports, and other opinions and then formed our own .  We felt the sell off was overdone on a valuation basis and we could enter the stock for a swing, or what we call a "Reversal" trade, hence our name, "Stock Reversals".
We put out the following chart on Wednesday April 4th with the Alert post:
Noting the stock was 13.30, we said to buy on dips to 12.80 up to max 13.80.  The low was 12.57 intra-day within days of the alert, and our stop was $12.50 but only near the close of the market day.  We rarely use hard stops in order to avoid random stop loss runs.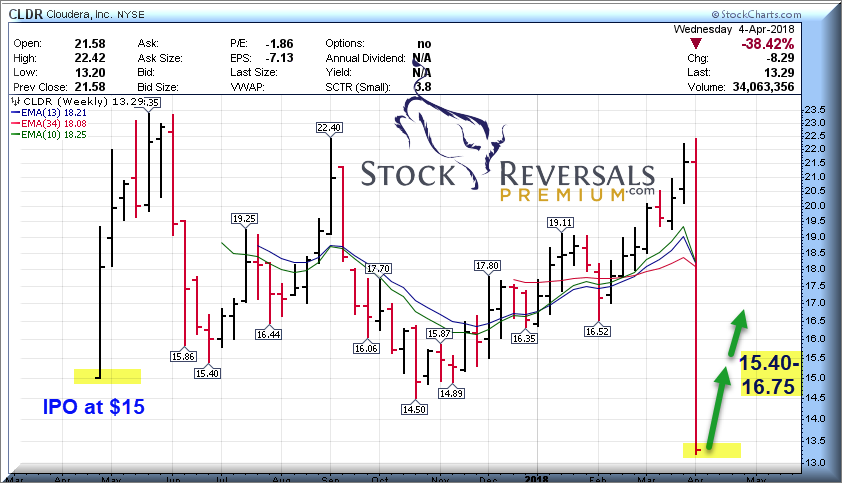 Eventually the chart turned upwards and we took profits near $15, lower than our objectives as the market was still volatile and we wanted to take the gains in hand, depending on the average net entry we had 10-14% gains.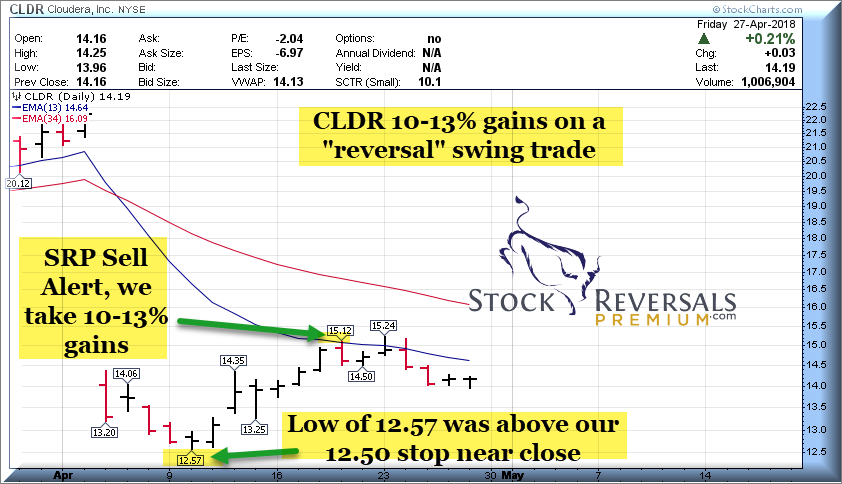 ---
Swing Trade Candidates: 12 Ideas with Notes.  Each week we list 10-18 ideas for further review by SRP Members and or potential alerts depending on market conditions:
ETFC: 2 weeks tight base near highs, strong earnings announced for E Trade
PANW- 8 week base near highs for Network Security provider
STMP- 6 month base, now near highs, Earnings due 5/3 for Stamps.com
IBKR- 8 week base pattern, near the highs, earnings already out for interactive brokers
CPRT- 8 weeks tight base near highs, conducts car auctions for banks, charities etc.
SAIL- 9 week post IPO base, pulling back off highs, Identity Software governance for organizations
HOME- 4 week base near highs for Home Decor retail chain
COUP- 8 week base near highs for cloud  based spend management software provider
FTS- Post IPO base, 13 weeks, fracturing drilling services provider
MB- 7 week base corrective pattern for Mindbody, provider of scheduling/commerce software for gyms etc
GOOS- 17 week base near highs for Retailer of winter clothing and iconic Goose Jackets
CPE- Near the highs, Oil and Gas exploration
---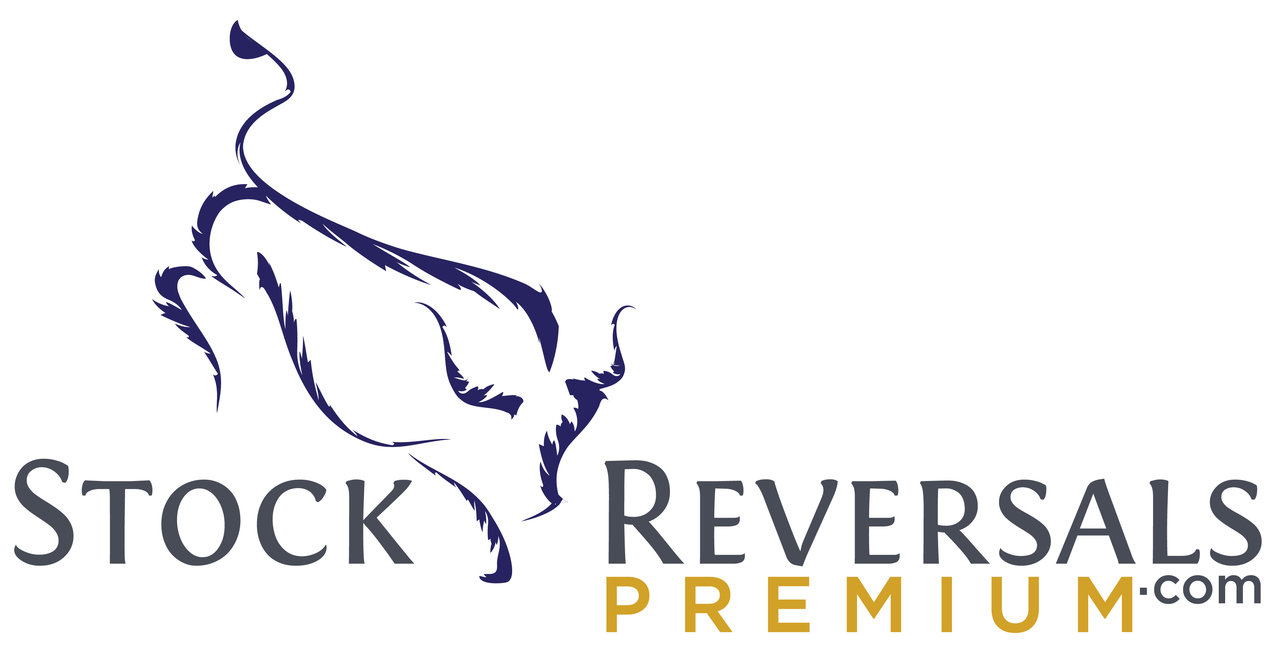 Swing Trading and Elliott Wave Forecasts
Membership Subscription service with real time buy and sell alerts, full informational posts on each position as alerted, morning pre market reports with  updates on the markets and all open positions, 24/5 access to our Chief Strategist, Tutorials and more!
Join today! 72% Success Rate since inception September 2013
Get 30% off a Monthly or Quarterly subscription using Discount Coupon Code: PSFFT5NWT1 
sign up here  (Click to Register)
"I really like what you're doing (and it's not just because you're on a hot streak right now).    I feel like you have the whole package – solid fundamental and technical expertise – combined with a very realistic grip on trading psychology." A.W. –  3/28/17- SRP Member
"David, you are, without a doubt, one of the best if not the best Elliott Wave guys I am aware of" 8/30/17
Peter Brandt, CEO, Factor LLC  (One of the worlds top Commodity Traders and Technical Analysts)