01 Mar

2019: Year of the Micro Cap Stocks

If you are not yet an "Opted In" Member of StockReversals.com , sign up today to get our IPO, Swing Trade and Market Trend updates or articles E-mailed to you as soon as published!
Be sure to check out our SP 500 Trading service at Stocktwits.com for with 183% trade gains through 4 months as another way to add to your investing and trading plans!
30% discount coupon at bottom of this article for our SRP swing Trade service.
---
Is 2019 THE YEAR of the Micro Cap Breakout?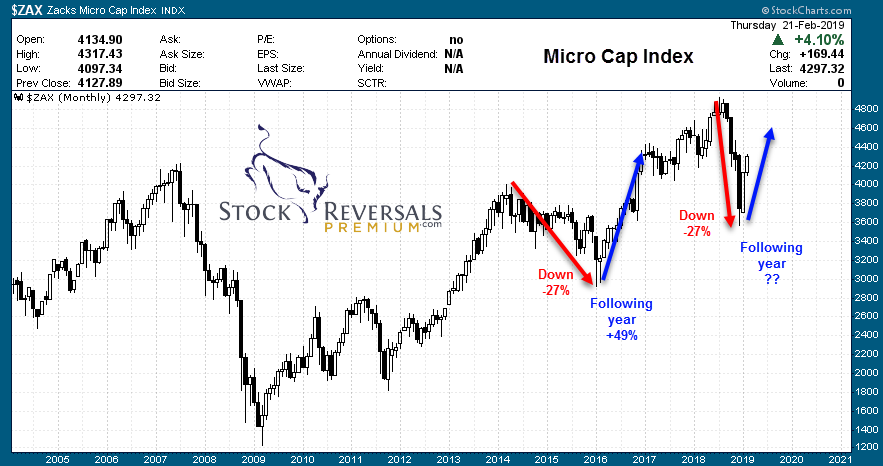 2018 was a wild year for stocks of all sizes – Large, Mid and Small/Micro.  The broad indexes fell anywhere from 10-15% in the Spring as well as down 15-20% in the Fall/Winter!
The Micro Cap index was down a whopping -27% from July to December, which means that there are plenty of opportunities for stock picking in our Stock Reversals Swing Trading and Tipping Point Stocks Premium services.
Our Tipping Point Stocks (TPS) Premium Growth stock Service aims for 50-200% gains on each report we put out on a company:
We put out two full Buy Research Reports in early January this year, one up as much as 400% when Bloomberg wrote an article 4 weeks after our report to buy (SOLO) and another which is breaking out and up almost 70% already for TPS Members (HYRE).  $10,000 into each of those would have paid for 37 years of subscription!
SOLO (Electra Meccanica)- Our early January Buy Report company
Maximum Entry $1.40 adding to $1.20
Original chart from that report issued 1/4/19: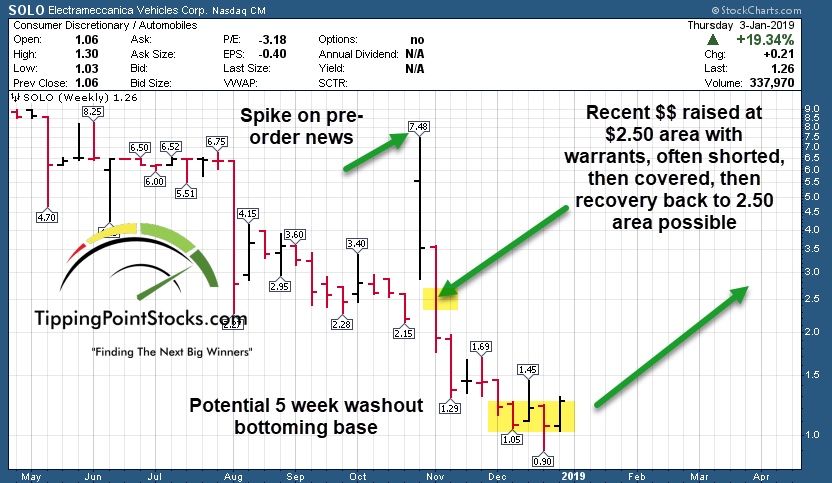 On 2/13, just 5 weeks later, we issued a sell alert around 3.00, for over a 150% gain. Some members held a little longer and sold at higher prices as we advised to use a $2.80 stop near close of market and ride, the stock hit as high as $6.74!!
We tweeted an excerpt from an email we got where a happy TPS member grew her trading account from $65,000 to $105,000 thanks to this trade!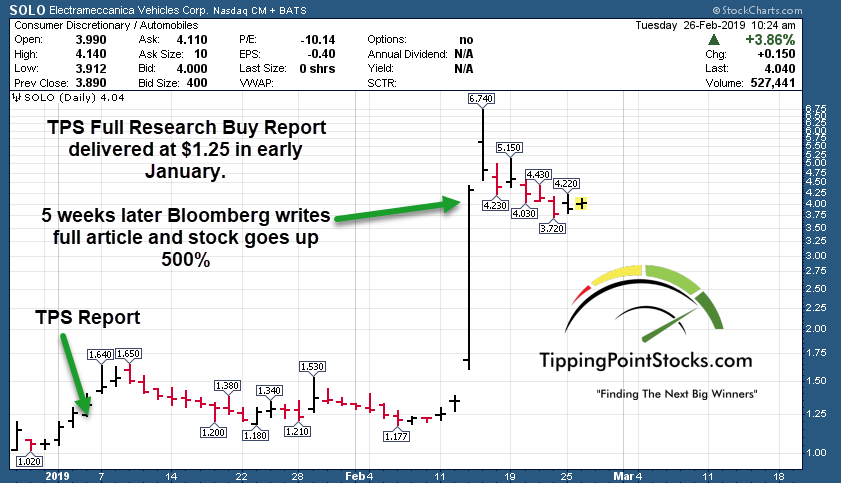 HYRE (Hyrecar) $3.50 Buy Report Jan 10th to TPS Members, High of $5.83 on 2/26 for 70% plus
Maximum Entry $4 per share adding on dips to $3.25 if they happen
Original chart from that report issued 1/11/19: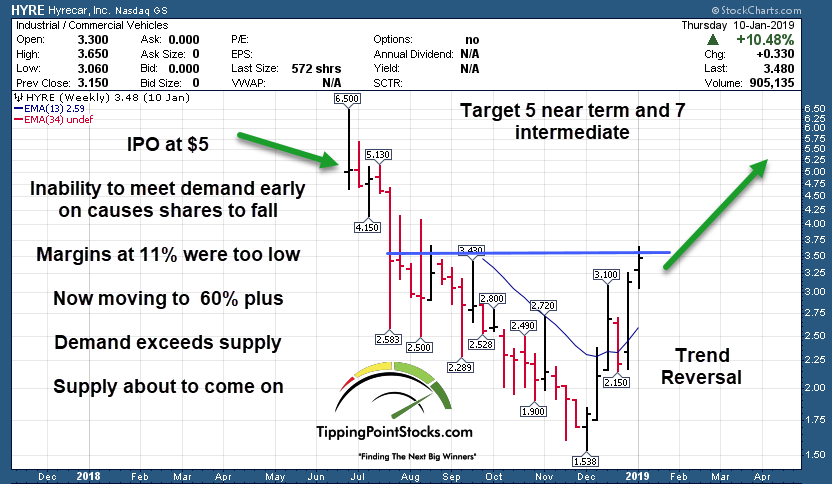 Since then, price has already met our initial target!!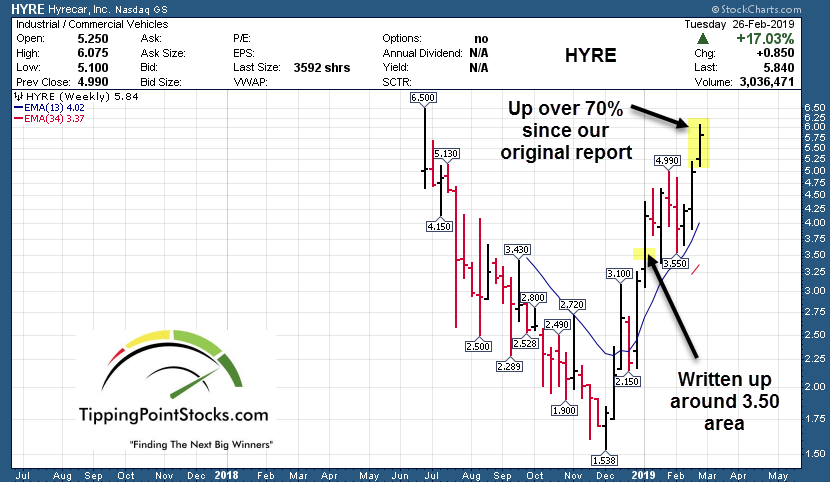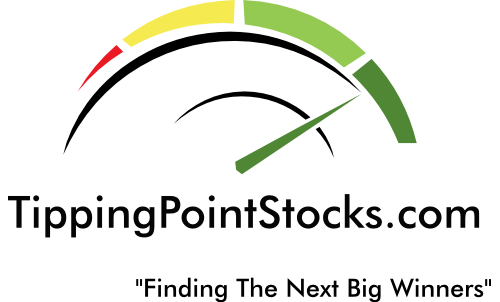 We have quite a few research reports currently underway and several positions that are in the buy ranges right now. Join us or read up at TIPPINGPOINTSTOCKS.COM
OR …. Stock and ETF Swing Trading  with a combined 70% success rate since September 2013 inception! 
30% OFF TODAY!

For a limited time, use Coupon Code: PSFFT5NWT1  for 

30% off Monthly, Quarterly, or Annual Membership
At our Stock Reversals Premium Swing Trade service we send an SMS text, E-mail, and SRP Members-only Blog Post with details on the company, entry and exit advice,  stop loss parameters,  plus SMS text and E-mail alerts to sell, morning reports every day covering all positions pre-market, ongoing strategy and trading advice, market forecast models updated daily,  and 24/5 access to our Chief Strategist.
If you are interested read up and then consider signing up for our Premium Service <– (Click Link to learn more) 
YOU CAN  REVIEW OUR TRACK RECORD HERE